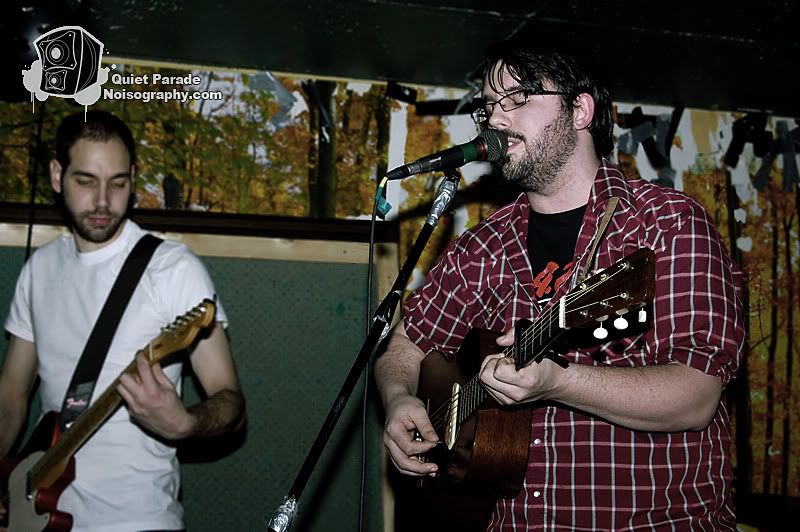 Album Review by Isaac Thompson
Release Date: April 19th 2011
Trevor Murphy - who has been a fixture in the Halifax music scene for years playing in some of the best received bands in town – has been trying something a little different with his solo project
Quiet Parade
. With "Please Come Home", Murphy has weaved an album that sounds unlike anything else in the local scene. It is a record overflowing with beauty.
The production is sparse and the instrumentation is stripped down, but each song builds in complexity transforming from an intimate singer-songwriter ballad to a full blown anthem. It sounds like an album of another time and place. Murphy shows perfect restraint and an unflappable desire to let the songs speak for themselves. The songs are so strong and well written that they don't need any bells or whistles. The bells and whistles are there but they are tastefully arranged and happen so gradually that instead of muddying things up they really elevate the songs. The choir in "I Never Wanted to Live Like That", the Xylophone in "Buying Time" and the sing-along breakdown in "Bury My Bones" are some of my favourite pepperings on the album. Such subtle arrangements help make this album something amazing. It has the feel of an Eliot Smith album produced by George Martin.
There are lots of folks out there writing sad, intimate songs, but what makes murphy's songwriting stand out is his fantastic lyric-writing. He comes across as funny, humble, honest but never self-pitying or finger pointing. There is something so damn real about the way he expresses himself in these songs that make them feel undeniably personal but universally relatable. "I Will Try" is a perfect example of this. It is a song that is heartbreaking and funny and cute and crushing. Most artists can't convey such diversity in an entire album, Murphy does it in one song and makes it look easy.
While this album is and emotional trip, it's also full of fantastic pop hooks. Every important aspect of songwriting has been gone over with a fine-tooth comb. It's amazing that this album was recorded in less than a week because it sounds like something that has been laboured over for months – maybe years.
"An Island", the final song on the album, is the perfect closing track; it brings the album full circle starting as a lovely, stripped down ballad and turning into something that sounds like it would be right at home on Sgt. Pepper's Lonely Hearts Club band. I can't recommend this album enough, it's touching and enjoyable. It's a sad album that you don't have to be sad to listen to.
Please Come Home is one of the most beautiful albums I've heard in a long time and I for one cannot stop listening to it.