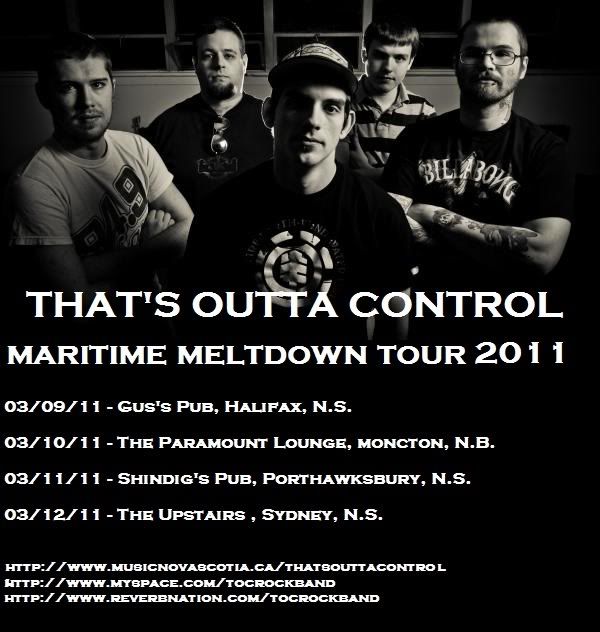 Overview by Tiffany Naugler
That's Outta Control w/ First To Fall, Another Shot
March 9th 2011
@ Gus' Pub
19 +
Another Shot
- 10:15pm - 11:00pm
www.myspace.com/anothershotband
That's Outta Control
- 11:05pm - 11:50pm
www.myspace.com/tocrockband
First To Fall
- 12:00am - 12:45am
www.myspace.com/firsttofallbc
As soon as I saw that the set times were actually posted on the facebook event page I HIGHLY doubted that the show would stick to them. I mean, seriously... when does a show in Halifax ever actually start beofre 11pm without being overly advertised as an "early show"? Almost NEVER.
I casually strolled up to the bar and was having a chit chat with Jim (the resident bouncer of awesomeness) when I looked at my phone which told me it was 10:14pm and by the time i had the phone back in my jacket pocket -
Another Shot
took to the stage.
Well, holy shit. Props to the guys putting on this show! *applause*
I went inside, got a beer, got my shit together and took in the show.
Another Shot played to a crowd of about 7 people, which was kind of disappointing.
I had seen these guys, play to a rowdy crowd, down at Club 1668 last summer and I was stoked to see another show full of energetic bands and an energetic crowd.
Regardless... it was your typical Wednesday night Gus' crowd of the barstaff, the rest of the bands playing that night.. and me.
Even though the crowd never really left their seats for the entire set, Another Shot played set that was full of energy and amusement.The band seemed to realize that the crowd was pretty much a deadbeat and they were playing pretty much just for the fun of it. There were silly smirks seen on plenty a face and they had fun with it.
Another shot singer, Dan McAllister, stated that they were actually playing as 4/5 of the band as they had lost their drummer. Guitarist, John Hayward, stepped in on drums for the night and produced a great full sounds regardless. I figured hell, stick to being a 4 piece... sounded pretty good to me! John later told me that the 2nd guitar parts are pretty crucial, so not to be too harsh since this was a pretty stripped down show for them.
Dan's voice has a slight My Chemical Romance feel to it, but the band itself is a lot heavier than that.. so - I can dig it.
Video:
Next up were,
That's Outta Control
.
I kind of feel bad writing this overview because well, the band in itself isn't bad, if your into this type of hardcore rock stuff, but the showmanship or well in this case showman-shit, on this particular night, was just so god awful that I couldn't get past it.
It began with a displeased bass player...
He seemed generally annoyed with the sound coming out of his guitar. There was the switching out of patch cords - still not happy. Then the switching out of amps, which resulted in the tinkering of knobs and buttons, which then resulted in a "Eureka!" type look as he finally "fixed" whatever the problem was. Upon watching/listening to this entire thing go down... I noticed no change in the bass at all. But - I'm not the expert here right? Now that at least 10 mins had been wasted on that... lets get to rockin!
The band started - shit tonnes of energy, havin' a time!
Not bad I say to myself...
After song 1, it was established that the vocals had to be raised. A tiny turn of the knob was made. Song number 1 began... I still can't really hear the guy screeching into the mic. Before song 3 starts, I go up to the stage and tell the vocalist that the vocals really need to be turned up...
He turned them up again, but... well.. when you listen to the video below... I just don't know what was up with that.
I got used to the fact that the vocals were not going to a strong point for the band tonight and just disregarded that and listened.
This is where I got really annoyed...
One of the guitarists broke a sting. Normal occurrence at a show right? Play without the string if you can, borrow a guitar from fellow touring musicians, have a back up guitar ready... or as in the case of That's Outta Control, just stop the show and take a 15 min break while the guitarist hops off stage, heads over to the bar to play guitar tech. Myron (
Gus' bartender extraordinare
) even put the house music back on during the change out because it was taking so long.
I was just tired of all the waiting at this point.
When the last song was about to start, guitars via stage left began the song - only to have the bass player throw a fit and basically scold the guy on playing the wrong song. I honestly couldn't believe that one.Being scolded on stage by your bandmate... that must have felt great.
Bassist was corrected, that was indeed the song that the band were going to close with and the show went on.
So, go listen to this band's myspace - they have it together in the studio....
but they really do need to get it together on stage.
Video:
As usual, when I am asked to come out and cover a show, I rarely
really
check out the bands before hand.
I like to walk in with a clear palette. I don't want any preconceived ideas as to what a band is supposed to be like. So it was to my complete surprise to find out from Another Shot's drummer/guitarist (who I know from high school) that the final band of the evening, First To Fall are from my home town of Bridgewater.
So from that point in - I became a little biased.
*shame*
In all honesty, theses guys are really great. When I think about the music that comes out of Bridgewater, I never really think of anything too ground breaking. At least nothing that would really be of any interest to someone like myself.
First To Fall
really blew me away.
Heavy music with beautiful vocals, melodies & screams included!
They write music that is both gritty & pretty which is a fantastic combo for me. It seems as though their songs are written with balls and feeling.
Even as I write this I am sitting here listening to their tunes on MySpace which I am very hard pressed to do with a lot of bands because - MySpace is SHIT.
The band got the small crowd (which had grown in size a smidgen by this point) to get off their asses and to the front of the stage. Leaving only 2 ladies at the back still sitting in their seats.
There isn't really anymore I can say about these guys.
If you get a chance, get out and see them. They will seriously blow you away with the sheer ground they can cover within one show. An amazing collaboration of 4 minds and musical talents.
Video:
________________________
See all the photos from this show
HERE
.