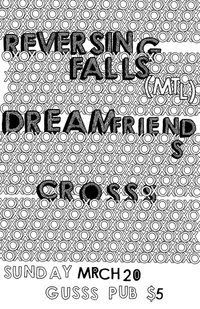 Overview by Isaac Thompson
March 20th 2011
Reversing Falls (mtl) will be returning to the wilderness of Gus's Pub to play with Crosss and Dream Friends
Reversing Falls
http://www.reversingfalls.bandcamp.com/
Crosss
http://www.crosss.bandcamp.com/
Dream Friends
http://www.myspace.com/dreemfriends
It was a night of unorthodox rhythm. Three bands, none bearing an old fashioned drum kit. Let's face it kids, it doesn't matter what tools you use to create your music as long as you play from your guts.
Crosss
, sans drummer, opened the night. These guys actually do have a regular drummer but he was M.I.A., leaving the guitarist/singer and bassist to perform as a duo. The band had a droning grunge sound that really could have used some powerhouse drumming. They did a fine job, the singer has a cool shoe-gazer voice, but the lack of drums made the songs sound a little too same-ish. I was really on the fence about these guys until I went to their bandcamp site and listened to their recordings. With the drums intact they rock! They are a band I could really see myself getting into, so I'd like to reserve judgement until I see them again with their drummer. I do appreciate how Cross realizes that the show must go on and I look forward to seeing them again as a three piece.
Video:
Reversing Falls
, a band from Montreal who have been produced by the Arcade Fire's Mark Lawson, had all of their beats programmed into an awesome sounding drum machine complete with that great 80's snare hit that makes any song 10X dancier. Both the band's playing and songwriting was tight and soulful. Their songs have a straightforward drive that slams their candy coated hooks into your forehead. Gus' Pub was the last stop on RF's latest tour and although they were certainly road-weary and playing to a small crowd, they put on a hell of a show. Every song was polished to a shine (as you can tell from their excellent recordings) but their live show has the necessary power and force to keep you glued to their set. RF are a really great band with a lot of potential. I suspect we'll be hearing a lot more of these guys in the coming years.
Video:
Dream Friends
are a relatively new band on the Halifax scene, but judging from Sunday night's show, they already have a pretty decent following. They played to the biggest, most enthusiastic crowd of the night. These guys are a lot of fun and play with a lot of heart. Their songs have an endearing childlike quality akin to bands like the White Stripes and Pavement. Easily the most entertaining aspect of Dream Friends was their percussionist. He had the craziest setup of the night. He was set up in the middle of the audience with a makeshift drum-kit consisting of a snare, a floor tom and a cymbal that he beat the every-loving shit out of while dancing around like snoopy on speed. The beats had fun little intricacies that really elevated the songs and made these guys a hoot to watch. Plus, their band name is hilarious.
Video:
________________________
See all the photos from this show
HERE
.