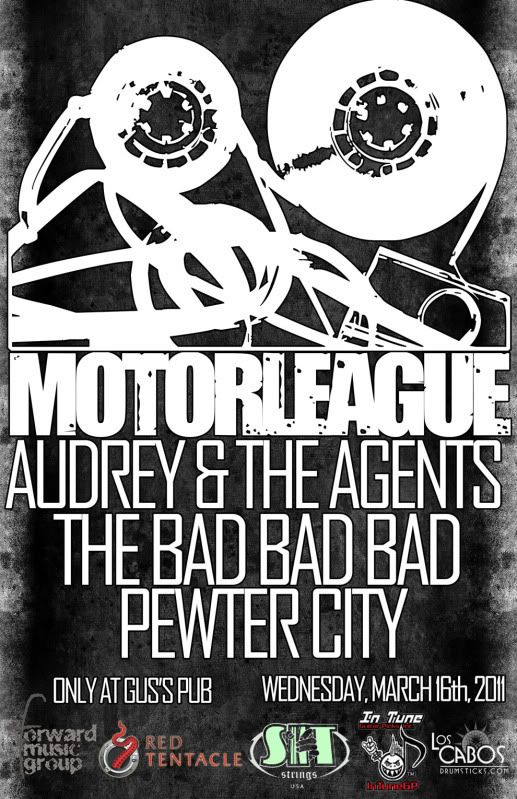 Show Overview by Isaac Thompson
___________________
Wednesday March 16th 2011
@ Gus' Pub - 10pm

The Motorleague
http://www.themotorleague.ca
Audrey & The Agents
http://www.myspace.com/audreyandtheagents
The Bad Bad Bad
http://www.myspace.com/thebadbadbad
Pewter City
http://www.facebook.com/pages/Pewter-City/148710168523584
___________________
Wednesday night's show at Gus' was a wild one. Four bands with very different approaches took the stage to a healthy sized crowd of crazy rockers, punks and other assorted hooligans. Noisography was there to soak it all in as well as film the entire set of one of our favorite live rock bands, the Bad Bad Bad.
Pewter City
was not only the first band of the night, but also the first instrumental surf rock band I've reviewed. I liked these guys. They were solid musicians and their songs were breezy fun throwbacks to stuff like Dick Dale & the Deltones (who's "Misirlou" –a.k.a the theme to Pulp Fiction was covered by Pewter City). It's good to see bands toy with genres that don't often get explored in these parts. Pewter City did their best to bring us a little summer in the twilight of winter.
The Bad Bad Bad
are one of my favorite bands to see live - They are a band of rabid animals, frothing at the mouth while assessing their prey with a half-crazed predatory stare. They play straight up rock and roll with classic song structures, foot stomping rhythms, stadium guitar riffs and they do it from their hearts. They aren't out to reinvent the wheel, just rock the fuck out of it.
It's a good thing our cameras were rolling, because Wednesday night's set had that hard-to-achieve effect of being a whirlwind of energy without being sloppy. It was a tight, fast and satisfying (and don't say "that's what she said" or I will punch you) set of Led-Zeppelin-and-the-Who-walk-into-a-punk-bar style madness. The Bad Bad Bad are a tricky band to review because instead of standing still and observing their strengths and weaknesses, I always spend their entire set rocking out. I guess that's the best review I can give a band, I was too busy enjoying their music to analyze and deconstruct it.
Video:
Following the Bad Bad Bad can be tough if you don't have a Tasmanian devil-like stage presence, but Audrey and the Agents stepped up to the challenge and rocked the joint till the windows started buzzing and the bricks started dancing.
Audrey and the Agents
' sound was a mix of old school punk like the clash and bad brains with contemporary dance rock like the Yeah, Yeah, Yeahs and the Gossip. Lead singer Chantal Caissie has loads of charisma, a strong singing voice and a scream that will shatter your earholes. The band chugs along with hard-hitting, precise and danceable beats, guitar hooks that infest your head like a brain-slug and bass that dares to not blend in the background. Bass is one of the most important elements for any rock band, especially one whose feet are planted so firmly on the dance floor, and Ben Manuel (also the bassist for the Scoop Outs) adds the right amount of melody and movement to the music. The bass is funky but undeniably punky, perfectly complimenting the aggressive guitars and those dancy drums. These guys rocked my artwork.
The Motorleague
travelled all the way from Moncton N.B. to wrap the evening up in a nice little bow. They played a set of riff oriented rock that was interested only in pummelling your senses and pillaging your will to resist. They are the kind of band who does one thing and does it well. Their songs were belted anthems with buzz saw guitar riffs, pulsing bass and unstoppable beats. Moncton has been known as a place were great bands are born daily for a while now, This is my first encounter with the Motorleague but I was impressed and would like to see them again so I can understand their intricacies under the rock. When seeing an aggressive band live, sometimes the aggression is so
overwhelming it's all you get a grasp on. There was definitely more going on with this band, but I was too busy rocking out to pin-point it. Which, again, is a very good thing.
________________________
See all the photos from this show
HERE
.