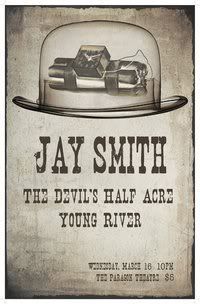 Show Overview/ Photos & Video by Kyle Hodder
March 16th, 2011
The Paragon Theatre
10pm - $5
Jay Smith
http://www.facebook.com/jaysmithband
The Devil's Half Acre
http://facebook.com/TheDevilsHalfAcreMusic
Young River
http://www.youngriverband.com/
The night started with myself +one showing up at 9:30ish. 2 beers and a half of rye and ginger later the first of the three bands
Young River
took the spotlight.
Before hearing these guys I was trying to guess what I might be in store for, just going by the name alone I figured… ok I hoped… Neil Young/Down by the River. These cats were pretty tight and blazed through their set. I checked their MySpace out afterwards which doesn't do their live show justice. If
My Morning Jacket
and
Hayden
were having tea and crumpets in the same coffee house and these guys started to play they would stop and listen. They list themselves as straight up rock but one could maybe see subtle undertones of country and folk as well.
Video:
The 2nd band of the night,
The Devils Half Acre
brought their loyal following. The place filled up before these guys started. I had to change locations a few times to see past bodies and over heads. Each song had its own unique flavour including my favourite The Circle. The lead singer Chase seems like a real down to earth guy. He thanked Noisography for coming out. I also chatted with their drummer briefly who along with Chase noted this was their bands first show playing together. Impressive.
Video:
The closer of this fine eve was
Jay Smith
.
The boys from Young River backed him up superbly. Their sound reminded my +1 of Nathan Wiley and me The Odds especially with the song "Romantic Fool". My ears perked up when Jay mentioned he was in California once and opened for Mike Ness of Social Distortion.
Video:






The last string was strummed somewhere around the 1am mark.
I look for forward to hearing more from all these bands.