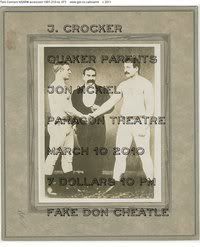 Overview by Dan Nightingale
Thursday, March 10 at 9:30pm
Paragon Theatre (Gallery Pub)
Jay Crocker
(calgary)
http://www.jaycrocker.com/
Quaker Parents
(hammonds plains/truro)
http://quakerparents.bandcamp.com/
Chief Thundercloud
(pictou)
http://www.myspace.com/cheifthundercloud
Jon Mckiel
(amherst)
http://www.myspace.com/jonmckiel
This show at the Paragon was one of the those pleasant surprises, where you knew every band would be good, but it turned out to be for totally different reasons – especially in the case of headerliners Jay Crocker and Jon Mckiel.
Chief Thundercloud
(aka Craig Currie of Scribber/Journalist Wolf fame) opened the night with a set of haunting acoustic songs. Showing casing Currie's soaring voice, the Paragon cafe provided the perfect acoustics for the stripped down, emotional rollercoaster of dark humour and longing that punctuated Currie's songs. It's pretty incredible how Currie has flourished as a singer, from the earliest days of scribbler screaming/mumbling into the microphone while staring at his shoes. Now he shows off an incredible range from crackling tenor to a perfect falsetto, alternating flawlessly between the twofrom song to song. Chief Thundercloud has a new tape with fantastic artwork and a ridiculous amount of songs (I counted 30+?) - half originals and half covers, so check that out.
You can hear more at
http://www.reverbnation.com/chiefthundercloud
Video:
Quaker Parents
were my 'sure thing' of the night, and with a bevy of new songs they didn't disappoint. A new record is in the works and the band showcased a handful of new tunes which sounded fantastic. As always, the deep snarling bass and the carefully crafted vocals provided the sonic highlight of the songs, while Mark Grundy's skittering guitar sound jumped in and out of pounding, stripped down drum beats. Some people might get the idea that the Quaker Parents sound is pretentious, but nothing could be further from the truth – from humble off stage attitudes to the classic on stage sibling banter, these guys are honest and down to earth while still managing to make inventive, catchy tunes and having fun while doing it. While frequent touring schedules in other bands keep these guys from playing as much as they should, I'm looking forward to a new release and more summer shows.
Video:
Of course all of this was arranged around
Jay Crocker
's return to Halifax – he was last seen at the
Pop Explosion
last fall, both on his own and with his band. This time around Jay's eerie drone pop tunes were punched up to great effect with a second member on drums and keyboards. While Jay had all ready proven himself a fully capable one man band, the second set of hands and feet added crucial layers and dynamics to an all ready impressive performance. Recalling vintage drone duo Silver Apples while adding a layer of indie rock inspired vocals, the two piece performance surely won a lot of new fans in Halifax. Jay also mentioned his likely move in the future to the beautiful south shore of Nova Scotia, so look forward to more frequent appearances in Halifax and beyond.
Video:
Jon Mckiel
topped off the night; and with an ever shifting lineup, Jon has yet to disappoint - and with only two members managed to create his trademark heavy pop music. Having seen Jon in several different arrangements, this was perhaps one of the best performances I've witnessed yet. The Cafe acoustics once again proved the perfect touch on top of the vocals, which Jon as always belted out perfectly while handling drums, vocals, and guitar. With bass and backing vocals added, the mix was just right to keep the sound heavy but sparse, which I think is the perfect atmosphere for these songs. He even managed to fight off a roaming heckler who seemed completely out of touch with reality, or perhaps had just been listening to the Monkees (or The Who? She wasn't quite sure) a little too much. The set was short but with any luck Jon and the band are warming up for a summer touring season so we can look forward to future longer, heckler free performances.
Video:
________________________