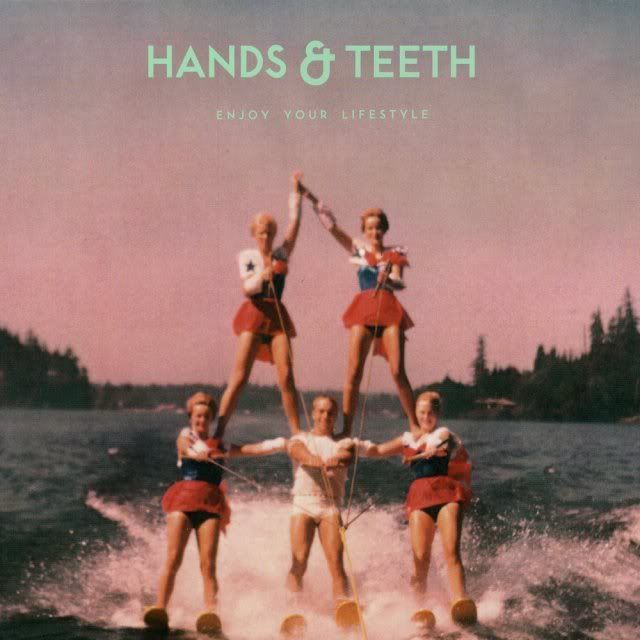 ENJOY YOUR LIFESTYLE EP AVAILABLE NOW

It's been a quick rise to popularity in Toronto for local band Hands & Teeth. When you have a live show that topples your peers and leaves critics in a daze, it's hard to be forgotten. This could explain why in a short year, Hands & Teeth have become one of Toronto's indie rock favourites. They recently recorded two acoustic videos with Mitch Fillion from Southern Souls that highlights a more delicate side to the band. See them here. It's the complete opposite energy you will see from the band on stages at Canadian Music Week, but they master each musical extreme diligently.
Hands & Teeth have recently self released their astonishing Enjoy Your Lifestyle EP. Major and online media have been quick to take note of this impressive career-starter. NOW Toronto stated, "Melding folk-pop melodies with classical composition, their songs have intricately layered structures that somehow avoid eclipsing the accessible hooks. It helps that each member is both a skilled musician and singer, applying the same sense of complexity to vocals as to arrangements." and Exclaim! confirmed, "In five numbers, there's sweetness and strength, from driving guitars and speedy keyboards to claps and hard drumming. Enjoy Your Lifestyle is fashioned into a motto to live by."
Hands & Teeth's live performance is in high demand. At Canadian Music Week Hands & Teeth will play 2 showcases. The first being the Audio Blood showcase March 10th at Sneaky Dees alongside Sandman Viper Command, Teenage Kicks, and more. The second showcase is supporting Japan's The Zoobombs on March 12th at the Comfort Zone. Don't miss your chance to see them sweep new audiences off their feet.
VIEW Southern Souls Videos:
http://southernsouls.ca/handsandteeth.html
About Hands & Teeth:
What began as a series of casual dinner parties complimented with killer soundtracks quickly blossomed into an invigorating, full-time musical project. Each of the five members are completely committed to all elements of production - from composition to vocals to engineering. Four of them even reside together in a live-in studio in Toronto's Parkdale neighbourhood. This highly collaborative atmosphere is what brings Hands & Teeth's artful fusion of pop, classical composition, angular guitar rock, lush vocal arrangements and inventive rhythms to life. Their songs tastefully sweep from whisper-quiet ballads to roaring anthems - a pitch-perfect reflection of each member's eclectic musical past, rich on-stage presence, and unparalleled dedication to the creative process.
It's been just over a year since Hands & Teeth's inception and their efforts have already garnered a flurry of interest and attention. In the last 14 months they have headlined shows from London to Montreal, were invited to play a private island music festival in Eastern Ontario, had an early single ("Hunting Season") appear in a McDonald's ad campaign, received airplay on CBC Radio 2, CBC Radio 3 and BBC 6, and charted at several Canadian college radio stations.
In Late 2010, Hands & Teeth released their debut EP, Enjoy Your Lifestyle, with a sold-out show in Toronto and an ever-expanding list of glowing critical reviews. Enjoy Your Lifestyle was mixed by Laurence Currie (Sloan, Wintersleep), mastered by Noah Mintz (Broken Social Scene, Los Campesinos!) and features guest vocals from Broken Social Scene's Lisa Lobsinger. ChartAttack called it a "Brief but impressive start."
2011 will see Hands & Teeth working away on their follow-up EP, touring, and continuing to impress with their blissful on-stage antics.
Mar. 10 @ Sneaky Dees, TORONTO (**CMW Audio Blood Showcase)
Mar. 12 @ Silver Dollar, TORONTO (**CMW w/ The Zoobombs)
http://twitter.com/handsandteeth