Peter Bjorn And John
are set to release a new full-length studio album, Gimme Some, on March 29th on StarTime International. For their sixth album the band chose to work with a producer for the first time ever enlisting the skills of Per Sunding at Tambourine Studios in Malmö. For a band that has always produced their own albums, this is a big move and when asked about the choice in a recent interview with SPIN.com John Eriksson said, " 'We needed someone who can make us play differently, someone to remember to back up the hard drive [laughs].'" The band sets out on tour this month, with Canadian dates later in the spring in
Toronto on May 6th
at
Lee's Palace
and
May 11th
in
Vancouver
at
Venue
.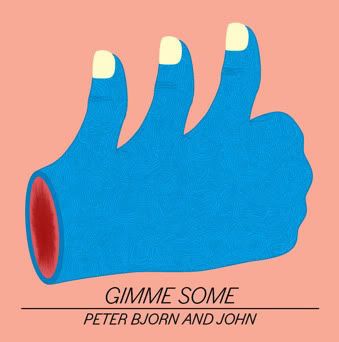 Gimme Some
, a follow up to 2009's more experimental Living Thing release, is a definite return to Peter Bjorn And John's pop roots. So the move to work with Per Sunding – a member of the now defunct Eggstone (a band that was once dubbed "the godfathers of Swedish pop") seemed especially fitting. A back-to-basics power-pop-trio-format was used.
In the nearly two years since the band's last album, Peter Bjorn And John have been very busy. Bjorn Yttling produced the new and wildly popular Lykke Li record – Wounded Rhymes, Peter Morén released his second solo album and his debut Swedish language album – I Spåren av Tåren, and John Eriksson released a new album – Favorite Flavor – with his disco-kraut band Holiday for Strings as well as three EPS with his solo project Hortlax Cobra. In addition, in January 2010 the entire band participated in an auction to help Haiti by submitting the bongos used on the recording of "Young Folks" along with Peter's jacket that he wore when they performed with Depeche Mode at MSG in the summer of 2009.
Watch the video for Second Chance:
And for updates and news, follow them on Twitter, @peterbjornjohn.
More details to be announced soon!
www.peterbjornandjohn.com
.