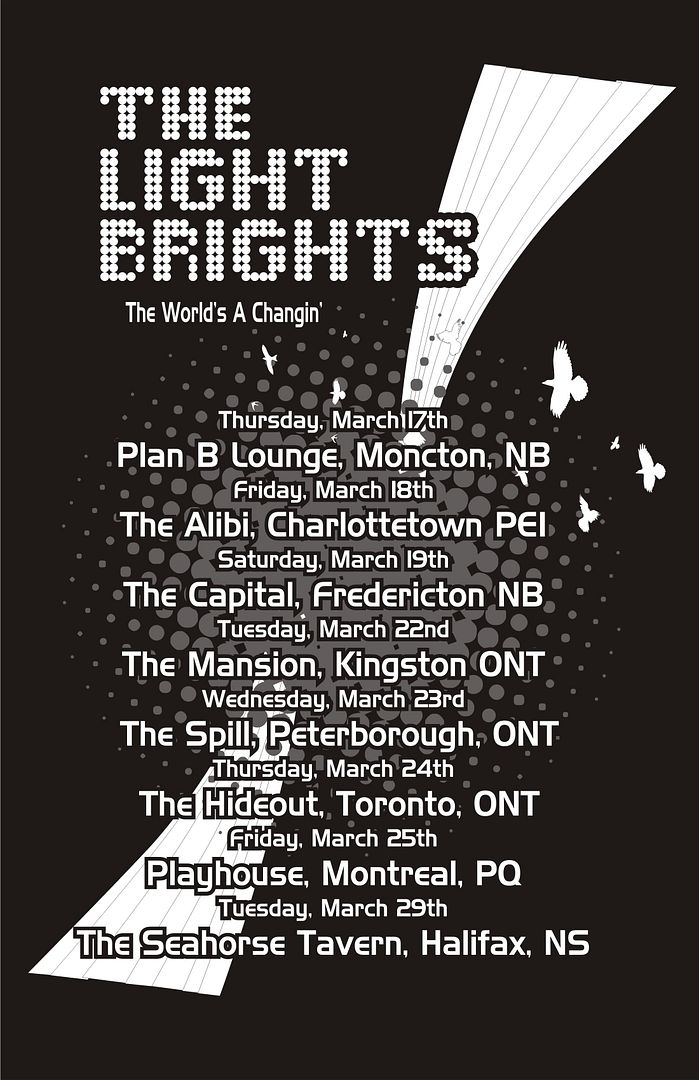 March 17th, 2011 - HALIFAX, NOVA SCOTIA
The Light Brights
kick off their 10 day tour on St Paddy's Day with excitement, smiles, and a love for the Irish (and their beer). Playing with great bands such as
The Motorleague, She Roars, Katie Moore
(Plants and Animals)
,
Low Lights
and More!! With the help of radio play and interviews (Trent University, K-Rock 105.5, Ocean 100, CHSR, Live 105) and newspaper features along the way (The Buzz, HERE NB, The Coast) the tour is to help promote their latest album,
The World's A Changin'
which is now available on iTunes, bandcamp.com and CD Baby.
Thursday 17th -
Moncton, NB
- Plan B w/ Jay Byrd
Friday 18th -
Charlottetown, PEI
- The Alibi Lounge, w/ Low Lights
Saturday 19th -
Fredericton, NB
- The Capital, w/ The Motorleague and She Roars!
Tuesday 22nd -
Kingston , ONT
- The Mansion, w/ Katie Moore and Mike O'Brien, Indie Music Lounge Night
Wednesday 23rd -
Peterborough, ONT
- The Spill,w/ The Dirty Mags and Pete Van Dyke
Thursday 24th –
Toronto, ONT
- The Hideout
Friday 25th -
Montreal, QC
- Cabaret Playhouse w/ Baby Alligators
Tuesday 29th -
Halifax, NS
- New Music Tuesdays WELCOME HOME SHOW!!!