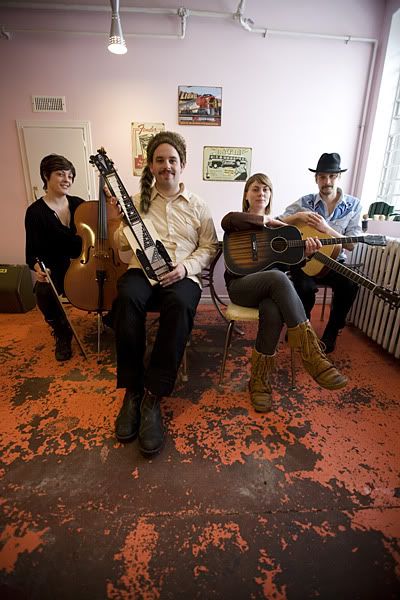 (Halifax, NS) - Peterborough's
The Kindness Killers
bring their haunting country folks songs to the Maritimes in April as they embark on their first Eastern Canadian tour.
Mp3 "Never Will Marry" from The Kindness Killers
Dates are as follows:
April 15 - Saint John, NB - Pepper's Pub
April 16 - Fredericton, NB - The Capital
April 17 - Sackville, NB - Thunder & Lightning
April 18 - Halifax, NS - The Company House
April 19 - Sydney, NS - Governor's Pub
When Loretta Lynn sang, "If you're lookin' at me, you're lookin' at country," she really hit a chord with The Kindness Killers.
Fronted by Benj Rowland, taking turns between acoustic guitar and accordion, and featuring Julia Fenn on ukulele and vocals, Charity Justrabo on cello and Nick Ferrio (The Burning Hell) on lap steel and back-up vocals, The Kindness Killers have quickly revealed themselves to be the bona fide flag-wavers of the genre and lifestyle that Loretta Lynn so proudly sang about.
Not only does the band fill the high-shafted leather boots of the influences they wear so well on their sleeves, they bring something new to the table. The cello, in the place of an up-right or acoustic bass, combined with the eerie lap-steeling of Ferrio, and Fenn's ukulele, immediately expresses the group's fresh approach to a traditional form. With their innovative instrumentation applied to time-honoured song structures, the Kindness Killers' sound is both familiar and daring. Rowland, Fenn and Ferrio all sing with enough twang to faithfully represent their influences, but in such a way that is neither contrived nor farcical.
Their choices of cover songs lean towards the spooky side of traditional, and their original work fits in so unassumingly that it is hard to tell which songs are nearly a century old. Though the band members were not raised in the Southern States, it is clear that their record collections were. This influence, in combination with the influence of Peterborough – a small Ontario blue-collar town – has resulted in a sound that, while unique to the Kindness Killers, can most certainly be labeled as country music.
http://kindnesskillers.com/