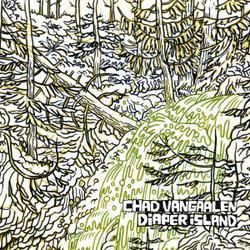 Celebrated songwriter releases his fourth album on Flemish Eye and Sub Pop on May 17th 2011
Every so often, Chad VanGaalen emerges from his bunker in Calgary with batch of songs, giving us a window into the the private world of this reclusive and enigmatic songwriter. With Diaper Island –out May 17th on Flemish Eye in Canada– VanGaalen distills his approach; here he produces his most sonically cohesive album to date, and the closest thing he has done to a rock album.
While VanGaalen's three previous records were made in a cramped basement studio, a move to a larger recording room offered space to develop and refine his sound. Fresh from producing Women's critically lauded Public Strain, VanGaalen decided to avoid the comfort of working on previous ground, and apply some of the recording techniques and sonic ideas that emerged from those sessions. For the first time, multi-tracked and often overdriven guitar is the instrument at the centre of the songs, which are often spartan and free of the melodic details that embellished previous albums. With this focus on guitar, combined with a beloved vintage tape machine determining the sound, VanGaalen moved towards a leaner, no-frills approach – one that more closely resembles the music that influenced him as a teenager, while continuing the arc laid out in his previous work.
The paradox of trying to assert control in a climate of helplessness winds through the album, whether in the existential pondering on life and death that often pervades VanGaalen's songs ("Do Not Fear," "Replace Me"), or in the conflict between control and creativity ("Freedom for a Policeman," "No Panic, No Heat"). At the album's heart is "Sara," a simple and celebratory paean that gorgeously praises the ability of VanGaalen's partner and muse to nurture his creativity in the face of this uncertainty, and captures the songwriter at his most sincere and powerful.
A celebrated visual artist, Chad VanGaalen is widely renowned for his illustration and animation work. As with his previous albums, VanGaalen illustrated all of the art for Diaper Island – and is in the midst of animating a music video as well. He has animated music videos for folks like J Mascis, Guster, and Holy Fuck, and his videos have been collectively viewed well over a million times on YouTube. He has been nominated for two Alternative Junos, been shortlisted for the Polaris Prize twice (Skelliconnection, 2007, Soft Airplane, 2009) and won a host of accolades for work in several media.
VanGaalen has been quietly building a catalogue of work that invite listeners to gently explore his distinctive creativity. Diaper Island extends the adventure into deeper territory, tapping into VanGaalen's lifeblood and mining the richness of his mind with sharper tools.
=======================================================
LINKS:
Album on Flemish Eye:
http://flemisheye.com/chad-vangaalen
Chad on Flemish Eye:
http://flemisheye.com/artists/chad-vangaalen
_________________
print/radio/digital media – killbeat music
www.killbeatmusic.com

/ http://twitter.com/killbeat

/