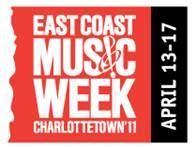 ECMA 2011 Fan's Choice Voting Now Open for Bell Aliant Fan's Choice Entertainer of the Year & Bell Aliant Fan's Choice Video of the Year
(Charlottetown) - As East Coast Music Week 2011 approaches, music fans can get in on the excitement and
vote for their favourite artists
with the Bell Aliant Fan's Choice 'Entertainer of the Year Award' and the Bell Aliant Fan's Choice 'Video of the Year Award'. A list of nominees for both awards is noted below.
These awards are the only East Coast Music Awards voted on by the public
, and fans have until Saturday,
April 16
at midnight (AST) to cast their vote online at
www.bellaliant.net/ecma
or
www.ecma.com
. Please note that only one vote per computer will be tabulated.
"As a supporter of Atlantic Canadian music and artists, Bell Aliant is a proud, long-time sponsor of the East Coast Music Awards," said Joe Mosher, vice president of marketing, Bell Aliant. "We look forward to engaging fans and audiences in this great event, through bellaliant.net/ecma, and to a great response to the 2011 Bell Aliant Fan's Choice Awards for Entertainer of the Year and Video of the Year."
Winners
of the Bell Aliant Fan's Choice Awards will be
announced April 17th
during the Bell Aliant 2011 ECMA Music Awards Gala presented by RBC at the Homburg Theatre in the Confederation Centre of the Arts.
"We are thrilled to again partner with Bell Aliant on these awards which allow fans of East Coast music a chance to be active participants in our biggest night of the year," said Su Hutchinson, executive director of the East Coast Music Association. "These are the awards that artists truly cherish, because they are based on the respect and appreciation of the fans they serve. Everyone can make their voice heard through the online voting process and help us determine these deserving winners."
Individual showcase tickets and passes are available via ticketpro.ca.
Gala tickets are available on line at
www.confederationcentre.com
or on-site via the Confederation Centre Box Office in Charlottetown.
A limited number of public tickets are available
.
East Coast Music Week 2011 will take place in Charlottetown, PEI, from April 13-17. The event is part of the ECMA's mandate to foster, promote and develop East Coast music.
The East Coast Music Association would like to acknowledge the financial support of FACTOR and the Government of Canada through the Department of Canadian Heritage (Canada Music Fund) and of Canada's private radio broadcasters.