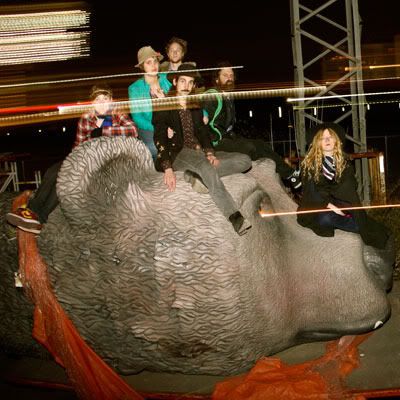 On the self titled debut from Calgary's
Deadhorse
, tape whispers and humming tubes spew howling guitars, swampy organ and ethereal vocals. Sonic fields are crushed into wormholes of re-imagined psychedelia, Nuggets-inspired garage rock and mind-warping jams akin to Hawkwind's Space Ritual. While comparisons to early British metal can be made, Deadhorse evokes the claustrophobia of a Canadian winter dreaming of sunny 60s' Topanga Canyon. Deadhorse was released on Calgary's Saved By Radio on January 4th.
DEADHORSE SPRING TOUR 2011
April 1 - Lethbridge, AB @ NAAG w/ Jay Crocker
April 8 - Edmonton, AB @ Wunderbar Hofbrauhaus w/ Krang & Jay Crocker
April 12 - Crofton, BC @ Crofton Hotel w/ No Don't Stop
April 14 - Victoria, BC @ Upstairs Cabaret w/ The Tequila Mockingbird Orchestra & Maria in the Shower
April 15 - Langley, BC @ The Cabin w/ Red Cedar, Thunderwolf Mountain & Hallow Moon
April 16 - Vancouver, BC @ The Rickshaw Theatre w/CR Avery, Carolyn Mark (ONE NIGHT STAND: ArtsWells Fundraiser)
April 18 - Kamloops, BC @ The Art We Are
April 21 - Calgary, AB @ Marquee Room w/ The Ooei Oohs
April 23 - Drumheller, AB @ O'Shea's Eatery & Ale House w/ Fire Coulee Bandits
April 28 - Saskatoon, SK @ Caffe Sola
April 29 - Regina, SK @ O'Hanlon's Irish Pub
April 30 - Winnipeg, MB @ Lo Pub w/ GOBBLE GOBBLE
May 1 - Thunder Bay, ON @ The Apollo
May 3 - Ottawa, ON @ Elmdale House Tavern
May 7 - Windsor, ON @ Phog Lounge w/ Ryan Bourne
May 10 - St. Catharines, ON @ The Mansion House
May 11 - Toronto, ON @ Rancho Relaxo w/ Ryan Bourne
May 12 - Quebec City, QC @ Tam Tam Cafe
May 19 -
Halifax, NS
@ Gus' Pub
w/ Doldrums, Romo Roto, Doctor Ew & Bike Rodeo (LONG LIVE THE QUEEN)
May 21 - Moncton, NB @ Plan B
May 22 - Montreal, QC @ Casa del Popolo w/ Expo67
*** More Dates To Be Announced Soon***
Founding Deadhorse members Danny Vescarelli (guitar, vocals), Jennifer Crighton (vocals, harmonica), Eddie Dalrymple (guitar, vocals), Marie Sulkowski (organ, vocals) and their original rhythm section gathered in January of 2010, enlisting analogue wizard and producer Jay Crocker (Ghostkeeper, No More Shapes) to transform Danny and Jennifer's Ramsay home into a studio. Over the next two weeks, sustained by streams of espresso, hashish, Lucky Lager and BBQed wild game, the group tracked live off the floor before adding additional vocals and mixing in Crocker's Sea Legs recording shack.
Lift-off is achieved with the jangly opener "Interstellar Remedies" – lush vocal harmonies and flourishes recalling sunshine pop legend Curt Boettcher invite you to hop Deadhorse' s converted freight train and snake through the cosmos. Making its first stop for the punchy "Glam Central," Deadhorse is a heavy and often dark set of magic carpet rides and paranoid partyromps. "Cushion" and "I'm a Lawyer" shine as the band rides high on the "swagger and groove of early '70s Neil Young and the drugged-out bombast of more modern psychedelia (think Sweden's Dungen or Comets on Fire)" (FFWD Weekly). Following the blistering rock of "Upon a Mountain High" the album draws to a close; the tracks recede, and Deadhorse's final drones are left echoing down a tunnel, destination unknown.
http://www.myspace.com/deadhorseband