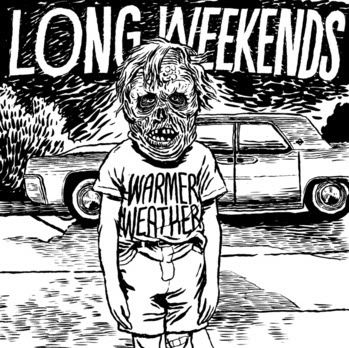 Review by Josh "Pinky" Pothier
It's about damn time we get something from Noel Macdonald. Since the demise of
Tomcat Combat
and the hiatus of
A History Of
we haven't heard too much from Halifax's favorite bald headed indie rock nice guy. Apparently he's been locked away in the rehearsal room with Adam Hartling (who since leaving
Kestrels
has also been sort of Musically MIA) and Devin Peck, your new favorite bass player.
The songs are nice, tight little rock songs layered with some wicked guitar tones and drenched reverb-y vocals, the kind only people from Truro seem to know how to do so well. There is a lot of dynamic to Long Weekends' blend of jangly madness, with everyone knowing when to hold back and let the vocals come in and when to wash everything over with sound.
Each track sort of carries it's own weight, but I do find it weird they started the EP with
At Long Last
, which I find is the least inviting track of the EP, and took me the longest to sort of get into.
Quarter Tracks
stands out as my favorite, combining catchy vocal lines throughout the song and dirty, fuzzed out guitars at the ends, a marriage that will never die.
Adams drums keep things rooted but interesting enough to stand out at the right times. He's always been a pretty solid drummer and it's nice to hear him lay back a little then really lay into the drums as the songs pick up. Teamed up with some stoic, mega-ganky bass, and you have 15 minutes of pure rock bliss. Now start playing some shows, boys.
http://longweekends.bandcamp.com/