Review by Isaac Thompson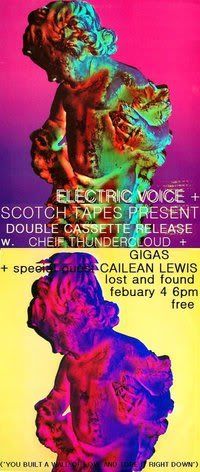 GIGAS
release a cassette on electric voice:
http://www.myspace.com/electrikkkvoice
http://www.myspace.com/gigasgigas
and
Chief Thundercloud
release a tape on scotch tapes:
http://scotchtapes.ca/
http://www.myspace.com/cheifthundercloud
with special guest
Cailean Lewis
:
http://www.myspace.com/caileanocailean
The Lost and Found
, a small vintage clothing store in Halifax's north end, was packed with people on Friday evening in anticipation for Chief Thundercloud and Giga's double tape release party. The store proved to be the perfect setting for an intimate and entertaining night of music.
With no stage, the bands played in the corner of the store making it feel more like a house party than a gig. There was a lot of interaction between the artists and the audience which added to the laid back feel of the evening.
The night started off with an acoustic set by special guest
Cailean Lewis
, which I missed due to the ol' day job. I did, however show up just in time for Gigas.
Video:
Gigas are a duo who plays a dancy, electronic style of music with lots of pedals and distortion. They combine digital beats with live bass, guitar and vocals. The vocals are run through pedals and heavily distorted.
There are a lot of bands out there that use a surplus of pedals and distortion, but what makes Gigas' music work is that their use of technology never feels like overcompensation or a gimmick to mask their inability. The singer can really sing (and belt) and uses the distortion to take is voice in all kinds of strange directions. The band's songs have elements of classic song-writing techniques and pay homage to everything from classic rock to punk to new wave. This tried and tested structure is pushed to its limits through the effects Gigas implement. They have a winning combination of catchy songs and an interesting and exciting sound.
Between songs, a lady in the audience loudly (and hilariously) applauded the band's abilities but thought they might do well to adopt an older sound. She suggested (to uproarious laughter) that the band cover Rick James' "Superfreak".
The more I watched Gigas set, the more I was convinced that they could do a sweet cover of "Superfreak".
Video:
Both Gigas and Chief Thunderdcloud (the solo project of Scribbler's Craig Currie) were celebrating the release of their new cassette tapes. Chief Thundercloud's tape is called June St. and is named after a Halifax street that the singer/songwriter is particularly fond of. He took some time out of his set to show off the tape's packaging which was drawn by a friend of his and featured images of the many things Chief Thundercloud proclaims to love, such as a guitar and pizza (though he clarified that he likes burgers better). It Was this kind of affable and easy going stage persona that made Chief Thundercloud's set a memorably success.
Thundercloud was endearingly unprepared. He had no notion of what his set was going to be and was very open about this. He constantly had to refer to the back of his cassette tape for set list inspiration and would stop songs halfway through because he couldn't remember how they went. Such unpreparedness is shaky territory, but Thundercloud made it work in his favour. His set was never boring; his original songs were tender, heartfelt, and profound while showcasing his voice, which is excellent for his low-fi brand of indie rock.
He did some humorous covers including freebird (complete with a vocalized gutar solo) and a slow, haunting falsetto cover of CCR's Bad Moon Rising. The ramshackle approach to live music that Thundercloud takes can be funny, amusing and strange but it also elevates the beauty of his songs. For every silly, tongue in cheek cover he played, he'd have 2 heartbreaking songs about despair, loneliness and insanity. The contrast made the funny songs funnier and the meaningful songs more meaningful.
Video:
________________________
See all the photos from this show
HERE
.