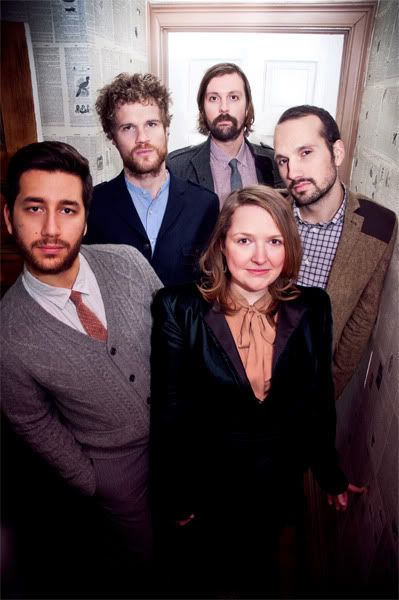 2010 was an amazing year for the
Wilderness of Manitoba
. Not only were both the EP
Hymns of Love & Spirits
and the band's debut LP,
When You Left The Fire
, widely acclaimed by North American and European media but the band took their notorious live show on the road as well. Since May, the Wilderness Of Manitoba have toured the UK twice including performances at the End of the Road Festival in Dorset where they received a standing ovation, the Wish You Were Here Festival in Cambridge and the Camden Crawl in London. At the End of the Road Festival, members of Mountain Man and the Low Anthem were backstage to catch their set, and the Rough Trade store sold over 150 CDs onsite. The band also did their first cross Canada tour last summer, starting in St. John's and going all the way to Vancouver; performing at an eclectic combination of churches, art galleries, festivals and cafés.
2011 holds equal promise for the Wilderness of Manitoba beginning with the reissue of Hymns of Love & Spirits on February 1st by the Vérité Recording Company. The release will come with three recently recorded bonus tracks including "Mother Song", which was written at the same time as the original songs; "Softly & Tenderly", which is a traditional gospel song; and a full band version of Dreamcatchers, which was recorded by Jose Contreras of By Divine Right at his studio in the country. Scott Bouwmeester of the band says that "the reissue of Hymns of Love & Spirits has brought it full circle. It was an engaging process to add and re-approach certain songs. However, we always kept this simple fact in mind, 'You can take the album out of the basement, but you can't take the basement out of the album.'"
The Wilderness of Manitoba will be performing at Canadian Music Week in Toronto, SXSW in Austin and the Folk Alliance in Memphis in the upcoming months in preparation for the release of When You Left The Fire in the U.S. on May 10th through tinyOGRE Entertainment. More dates will be announced soon.
More dates will be announced soon.
________________