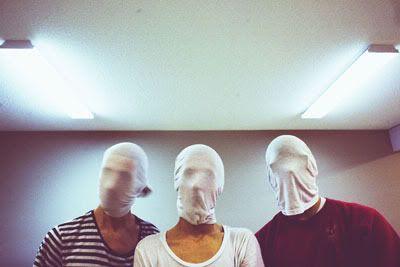 The Kelowna B.C. recording artists have released the video for Happy New Year, the first of six videos – one for every song on their upcoming sophomore release High School – that have been filmed. The remaining five videos will be released in tandem along with Happy New Year after a series of soon to be announced advance screenings take place. In the meantime the band continues the trek east in support of High School. High School is out on March 22 and all tour dates are below.
Happy New Year Video:
http://vimeo.com/20278331
Band Website:
http://www.wearethecity.ca/
Since forming in 2008, Kelowna, BC's
We Are The City
has become one of the most exciting and unpredictable forces in the Canadian music scene. The band soon began earning accolades for its atmospheric progressive-pop sound with the release of their debut LP In a Quiet World in 2009. In January 2010, the band earned a whopping $150,000 by winning the PEAK Performance Project, a massive "battle of the bands" contest hosted by Vancouver's 100.5 The PEAK.
Now, the trio of Cayne McKenzie (vocals/keyboard), Andrew Huculiak (drums) and Blake Enemark (guitar) are ready to take their most ambitious step yet. In March 2011 the band will release six songs entitled High School, the result of an experiment that began as a side project during some down time in the summer of 2010.
High School was originally envisioned as a fictional band, with the members tying shirts over their faces and adopting aliases in order to disguise their identities. Cayne was Lindsey Jone. Andrew was Matthew Curran. Blake was Bobby Reynolds. The project gave the band a chance to revisit their teenage years, laying bare some shameful memories from their past.
We Are The City found themselves venturing into new musical terrain. On the quirky "Happy New Year," West African-inspired licks give way to garage-y rock outs and fuzzed-out Rhodes piano. "Dark/Warm Air" takes a gentler approach, bringing together delicate guitar arpeggios with baroque pop breakdowns and a dash of tropical Mellotron samples.
High School allowed We Are The City to introduce the use of drum machines and string arrangements into their already very layered sound. They are ecstatic to have worked with Tom Dobrzanski (Said the Whale, Hey Ocean!) who produced the sessions taking place in Vancouver at Vertical and Blue Wave Studios.
With the completion of High School, the band members now have their sights set on a sophomore LP. While it remains to be seen in which direction they will steer their music, one thing is certain: We Are The City will continue their attempt to push musical boundaries and hopefully stumble across something not yet heard in the process.
We Are The City High School Tour Dates
Feb 18th • Victoria, BC • Fairfield United w/ Aidan Knight, Yes Nice, Mike Edel
Feb 19th • Port Alberni, BC • The Academy w/ Aidan Knight, Yes Nice, Kingdom Cloud
Feb 20th • Duncan, BC • The Duncan Garage Showroom w/ Aidan Knight, Yes Nice
Feb 25th • Brandon, MB • North Hill Inn
Feb 28th • Thunder Bay, ON • Crock's w/ Yukon Blonde
March 2nd – Orangeville, ON-RANGEVILLE, ON - Aardvark Music & Culture w/ Aidan Knight & The Liptonians
March 3rd • Kingston, ON • Clark Hall Pub w/ The Liptonians
March 4th • Windsor, ON • The Phog Lounge
March 8th • Montreal, QC • Casa del Popolo w/ Rah Rah
March 9th • Quebec, QC • L'Agitee w/ Rah Rah
March 11th – Toronto, ON – Criminal Records in-store w/ Aidan Knight
March 12th •Toronto, ON • The Garrison – CMW Showcase – 10PM
March 14th – Truro, NS - Douglas Street School w/ Aidan Knight, Leo McKay & Scott Nicks
March 15th • Halifax, NS • Paragon Gallery Pub w/ Aidan Knight
March 18th • Charlottetown, PEI • Baba's w/ Aidan Knight
March 23rd • Winnipeg, MB • The Park Theatre w/ Aidan Knight, The Liptonians
March 24th • Regina, SK • O'Hanlon's w/ Aidan Knight
March 25th • Edmonton, AB • BRIXX w/ Aidan Knight
March 26th • Calgary, AB • The Marquee Room w/ Aidan Knight
April 2nd • Vancouver, BC • The Red Room – West Coast Pop w/ Aidan Knight & Analog Bell Service
April 3rd • Kelowna, BC • Kelowna Community Theatre w/ Kingdom Cloud, Aidan Knight, Said The Whale
**More dates to be announced soon**
_______________
print/radio/digital media – killbeat music
www.killbeatmusic.com / 604 683 2124 / http://twitter.com/killbeat