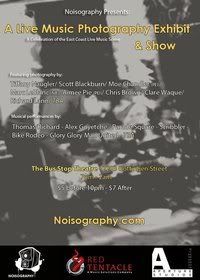 That's right folks, we are currently working hard on our first show - which will showcase the talent of Maritime photographers and Halifax musicians!
Noisography has seen a lot of great shows since its beginning and we have had the pleasure of meeting and seeing a lot of great photographers along the way.

Now it's time to put the two together and showcase some of the great moments caught on camera along with some great live performances from Halifax musicians.

Although the music is coming from Halifax, the photos will be from all over the East Coast! So come on out and see what the East Coast music scene is doing to impress its audiences!
_____________________

Featuring Photography by:

Tiffany Naugler(NS) - http://noisography.com/
Scott Blackburn(NS) - http://scottblackburnphoto.com/
Richard Lann - http://www.richardlann.ca/
Moe Chandler (PEI) - http://flickr.com/photos/mynameismoe
Marc Xavier LeBlanc "DJ Bones" (NB) - http://www.studiograph.ca/
Aimee Pie (PEI) - http://bitchplz.com/
Ryan Wilson (PEI/NS) - http://www.flickr.com/photos/novapants/
Chris Brown (NS) -
Clare Waque (NS) -

and maybe more!

and Musical Performances by:

Thomas/Richard - http://is.gd/OGRgF0
Alex Goyetche - http://on.fb.me/gf80Aw
Parade Square - http://on.fb.me/ig6g7g
Scribbler - http://on.fb.me/fPuFQn
No Flyers Please - http://on.fb.me/hf4k8r
Glory Glory Man United - http://on.fb.me/ePnJFf
Bike Rodeo - http://on.fb.me/gLt0Nk
_____________________

The Bus Stop Theatre - 2203 Gottingen Street
7pm - 2am
$5 before 10pm - $7 After

Opening Reception begins at 7pm sharp with complimentary finger foods, snacks and acoustic performances.

Be there early! Catch yourself some free food and a deal on cover charge!

Facebook Event:
http://www.facebook.com/event.php?eid=136177446447942
We know its early but - MARK YOUR CALENDARS - This is a show which is not to be missed!
_____________________

Sponsored by:

Red Tentacle - http://www.redtentacle.ca/
Aperture Studios - http://aperturestudios.ca/
Pavement Postering - http://www.hs.facebook.com/pages/pavement-postering/323191293537