Mark Berube & The Patriotic Few Release Video For "Hello From" And Continue National Tour In Support Of Their Upcoming Album June In Siberia.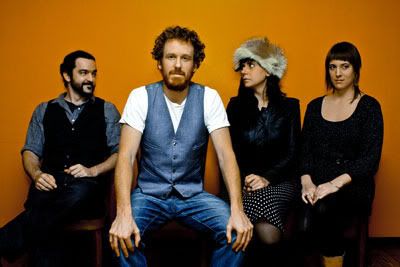 Aquarius Recording Artists From Montreal,
Mark Berube & The Patriotic Few
have just released the debut video from their upcoming album
"June In Siberia".
Recorded by Howard Bilerman (Arcade Fire, Basia Bulat, Silver Mt Zion) live off the floor at Montreal's Hotel 2 Tango, June In Siberia is the full length follow up to 2008's What The Boat Gave The River. June In Siberia sees a departure for Mark Berube and The Patriotic Few (Kristina Koropecki on cello, Patrick Dugas on drums, and Amélie Mandeville on bass) from their previous experimentation with large-scale arrangements of strings and horns, choosing instead to hone in on the impressive vocal and instrumental strengths of each member. Joining the band are four special guests. Dan Mangan appears on Side of the Road, Emily Loizeau sings a verse in the redemptive eulogy Above the Ground; CR Avery lends a poem in Let Me Go; and Hattie Webb of the Webb Sisters bestows her voice to the blues-piano riff Fela Kuti-inspired ballad and first single My Me Lady. The band have already started taking their striking live show and unique blend of indie chamber-folk across Canada in support of their upcoming new album. June In Siberia comes out March 1st.
Mark Berube And The Patriotic Few Tour Dates
Feb 03 – Sorel, QC @ Pub O'Callaghan's
Feb 04 - St-André-Avellin, QC @ Auberge Petite-Nation
Feb 05 – Val David, QC @ Bistro Mouton Noir
Feb 10 – Quebec, QC @ Le Cercle
Feb 17 – Victoriaville, QC @ Vieux-St-Pierre
Feb 18 - Trois-Rivières, QC @ Zénob
Feb 19 - Deschambault, QC @ L'Angélus
Feb 23 – Halifax, NS @ Company House
Feb 24 – Moncton, NB @ Paramount Lounge
Feb 25 – Charlottetown, PE @ Baba's
Feb 26 – Fredericton, NB @ Capital Complex Capital Bar
Mar 01 – Montreal, QC @ Mini Lancement Verre Bouteille
Mar 02 – Guelph, ON @ University of Guelph Courtyard - Noon Hour Show
Mar 03 – Toronto, ON @ The Garrison
Mar 04 – Hamilton, ON @ The Pearl Company
Mar 05 - Sault Ste Marie, ON @ Loplops
Mar 06 – Thunder Bay, ON @ Lakehead University
Mar 08 – Winnipeg, MB @ WECC
Mar 09 – Regina, SK @ TBA
Mar 10 – Saskatoon, SK @ Grace Westminster United Church
Mar 11 – Edmonton, AB @ The Pawnshop
Mar 12 – Calgary, AB @ The Ironwood Stage
Mar 16 – Courtenay, BC @ Joe's Garage
Mar 18 – Vancouver, BC @ VECC
More Information:
http://www.markberube.com/
_________________
print/radio/digital media – killbeat music
www.killbeatmusic.com / http://twitter.com/killbeat