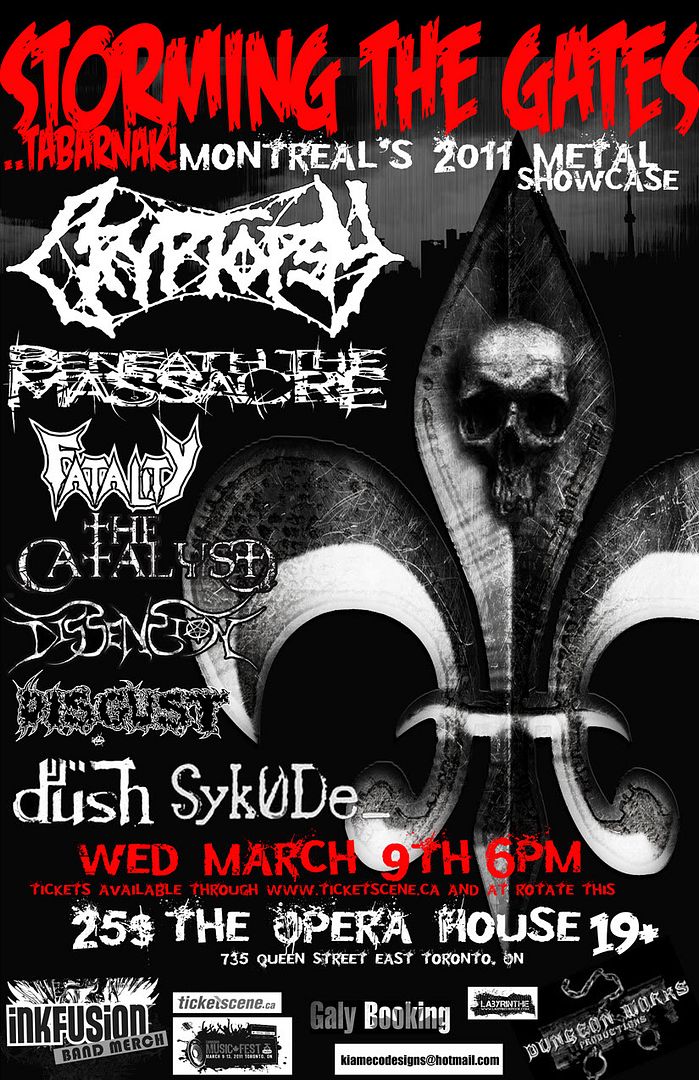 Montreal metal will be storming the gates of Canadian Music Week, March 9th, 2011 in Toronto, ON at The Opera House (735 Queen St. East) for a true celebration of Montreal's metal scene. Technical death metallers
Cryptopsy
&
Beneath The Massacre
will be leading the charge alongside Toronto's own
Fatality
and Montreal's
The Catalyst
who will give you a lesson in old school meets modern thrash.
Ontario's own bastion of all things gore,
Disgust
will be making an appearance to the pleasure of those who like their death metal pure & sickly to the veins.
Also representing Canada's metal capital is Montreal's
Dissension
,
Dush
, and
Sykode
who round out the opening acts; each delivering very different styles and sounds to illustrate the variety in Montreal's metal scene. From melodic/symphonic, blackened thrash, to gothic-tinged doom rock, and progressive metalcore,
STORMING THE GATES...TABARNAK!
is the CMW event for METAL.
Dungeonworks Productions & CMW presents:
STORMING THE GATES...TABARNAK!
MONTREAL'S 2011 METAL SHOWCASE
(a Canadian Music Week event):
Date:
Wednesday, March 9th, 2011 - 6pm - 19+
Where:
The Opera House, 735 Queen St. East, Toronto, ON
Tickets $25 available at
www.ticketscene.ca
and
Rotate This
CRYPTOPSY
(Century Media Records)
www.myspace.com/cryptopsy
BENEATH THE MASSACRE
(Prosthetic Records)
www.myspace.com/btm
FATALITY
www.myspace.com/fatalitythrashfuck
THE CATALYST
www.myspace.com/thecatalystmetal
DISSENSION
www.myspace.com/dissensionmtl
DISGUST
www.myspace.com/disgustmusic
DUSH
www.templeofdush.com
&
www.myspace.com/templeofdush
SYKODE
www.sykode.com
&
www.myspace.com/sykode
Sponsored by:
Ticket Scene -
www.TicketScene.ca
INKFUSION BAND MERCH -
www.inkfusion-band-merch.com
KIAMECODESIGNS -
kiamecodesigns@hotmail.com
LABYRINTHE BOUTIQUE -
www.labyrintherock.com