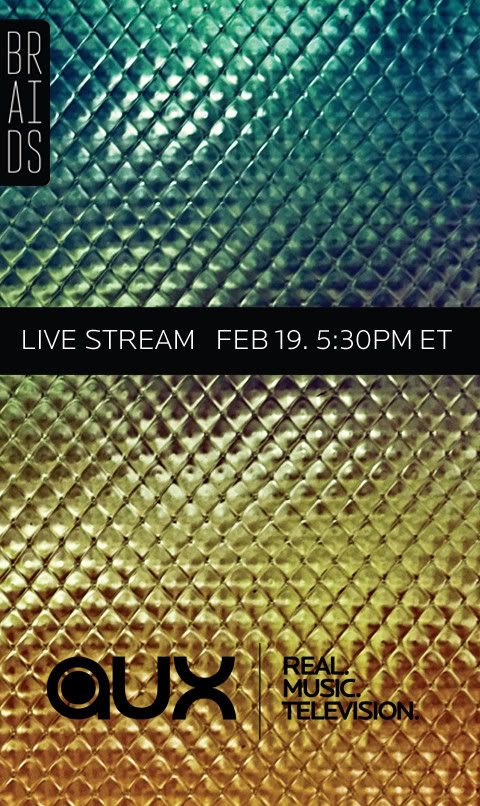 On February 19 at 5:30 PM Eastern Time, AUX TV will be hosting an exclusive live stream of
Braids
' in store performance at Sonic Boom In Toronto to their Facebook page. Head to
http://facebook.com/auxtv
at 5:30pm ET on February 19th to watch the band play songs from their critically acclaimed debut Native Speaker.
February 19 - 5:30pm ET:
Live in-store @
Sonic Boom
512 Bloor St. W. Toronto, ON
Live Stream @
facebook.com/auxtv
A month after releasing their debut album Native Speaker, Montreal's Braids are currently 3 weeks into a 40 plus tour date trek across North America while chatter about Native Speaker just keeps increasing. Rolling Stone, Pitchfork, Vice, L Magazine, Globe and Mail, The New York Times and numerous other publications, have all chimed in favour of the band's glorious debut album. The band recently had their network TV premiere on Musique Plus, while their video for Plath Heart debuted on Pitchfork.
Native Speaker
is available at retailers and on flemisheye.com.
"Plath Heart" Video on Pitchfork :
http://pitchfork.com/tv/#/musicvideo/11599-braids-plath-heart-kanineflemish-eye
Performance Of "Plath Heart" On Musique Plus :
http://www.musiqueplus.com/l-univers-musiqueplus/videos/braids-l-univers-19-janvier-2011
Braids on Flemish Eye:
http://www.flemisheye.com/braids
Braids on MySpace:
http://www.myspace.com/braidsmusic
Braids on Killbeat:
http://www.killbeatmusic.com/braids/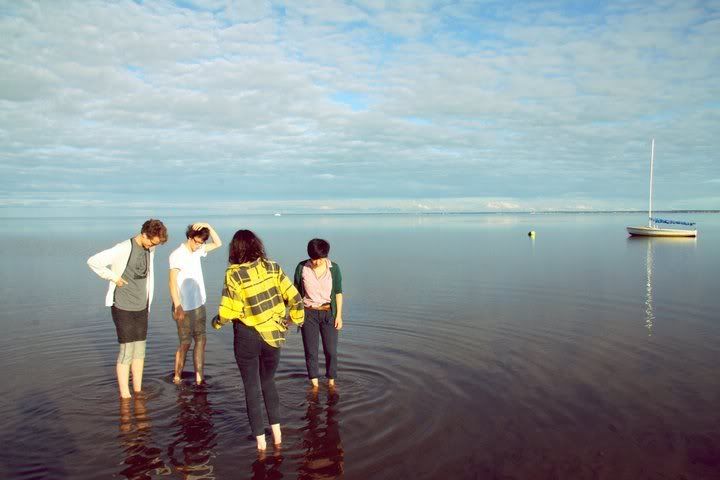 ========================================================
Braids on tour
February 16 :: New York City, NY :: Mercury Lounge :: w/ Baths and Star Slinger
February 17 :: Allston, MA :: Brighton Music Hall :: w/ Baths and Star Slinger
February 18 :: Montreal, QC :: Il Motore :: w/ Baths and Star Slinger
February 19 :: Toronto, ON :: El Mocambo :: w/ Baths and Star Slinger
February 21 :: Columbus, OH :: Skully's Music Diner :: w/ Baths and Star Slinger
February 22 :: Urbana, IL :: The Canopy :: w/ Baths and Star Slinger
February 23 :: Iowa City, IA :: Gabe's :: w/ Baths and Star Slinger
February 24 :: Minneapolis, MN :: 7th St Entry :: w/ Baths and Star Slinger
February 25 :: Madison, WI :: Der Rathskellar (University of Wisconsin :: w/ Baths and Star Slinger
February 26 :: Chicago, IL :: Subterranean :: w/ Baths and Star Slinger
March 1 :: Seattle, WA :: Chop Suey :: w/ Baths and Star Slinger
March 2 :: Portland, OR :: Holocene :: w/ Baths and Star Slinger
March 3 :: Arcata, CA :: Jambalaya :: with Baths and Star Slinger
March 4 :: San Francisco, CA :: Rickshaw Stop :: w/ Baths and Star Slinger
March 5 :: Los Angeles, CA :: Troubadour :: w/ Baths and Star Slinger
March 10 :: Costa Mesa, CA :: Detroit Bar :: w/ Asobi Seksu
March 11 :: San Diego, CA :: Casbah :: w/ Asobi Seksu
March 12 :: Las Vegas, NV :: Neon Reverb Festival :: w/ Asobi Seksu
March 13 :: Phoenix, AZ :: Rhythm Room
March 14 :: Santa Fe, NM :: Corazon :: w/ Asobi Seksu
March 21 :: Tempe, AZ :: Sail Inn :: w/ Toro Y Moi & Cloud Nothings
March 26 :: Kennewick, WA :: The Red Room :: w/ Toro Y Moi & Cloud Nothings
March 28 :: Vancouver, BC :: Biltmore :: w/ Toro Y Moi
March 30 :: Calgary, AB :: The Grand Theatre :: w/ Memory Screen & Kris Ellestad
March 31 :: Edmonton, AB :: The Pawn Shop
April 1 :: Saskatoon, SK :: Caffe Sola :: Vivefest - more info here
April 2 :: Winnipeg, MB :: The Royal Albert Arms
April 6 :: Bloomington, IN :: The Bishop :: w/ Toro Y Moi
April 13 :: Baltimore, MD :: Talking Head :: w/ Toro Y Moi
_____________
print/radio/digital media – killbeat music
www.killbeatmusic.com / http://twitter.com/killbeat