Review By Mario Gautreau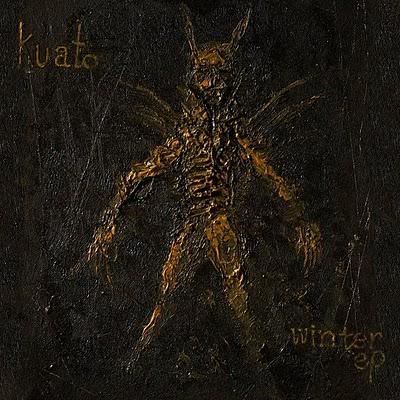 KUATO
's new
Winter EP
speaks to the power of hibernation for bands in a jam room. The Halifax post-rock band's craft has surpassed whatever growing pains is usually associated with bands finding a sound to call their own, and I wouldn't call it premature to anticipate a growing expertise in their sound as time tumbles forward. Their sound is localized in nature; the songs create sonic landscapes that could superimpose the wildest of random visuals or the rainiest of drives down coastal roads.
Winter EP – available for free download, which is always a plus to making something accessible – sees the band refine the ideas of their first EP and generate a focus in the songs that sets them apart in a genre that too easily lumps artists under the Explosions in the Sky, Mogwai, Godspeed You! Black Emperor or Russian Circles banner. While I'm sure music by these bands have passed between the ears of KUATO's members (and mine), it's important to note that the sound KUATO creates is not a regurgitation of these bands, but rather a validation of their interpretation of the genre's multifaceted qualities and influences, as well as a personalization of sound that transcends a bit of time and a bit of space.
James O'Toole and A.A. Wallace have done a fantastic job to make sure all of the subtleties of sound are present in the three tracks; every sonic amplification becomes a word in what feels like epic soliloquies of music. There's a poetry to the songs in how all the instruments involved work in parallel to create subtle resonance, crescendos, sudden drops in air pressure and tidal waves of bacchanal-esque choruses that hinge on chaotic breakdowns but always seem to have a grounded quality that conveys a genuineness scarcely found in music.
I'll also give serious props to whatever process the band goes through to decide song names. I'm a sucker for a good pun, and I wouldn't hold it against them if the guys spent as much time puzzling over song names as they do writing their 10-minute songs. Just the song titles should get these guys a few rounds of well-deserved high-fives.
"Pet Seminary" is a great kicker to the EP, with an eerie overtone of delayed guitars making clear that something is lurking in the shadows, that there's a foggy air of excitement building up somewhere in the distance of the song. The progression finds its vibe in the subtle build-up of the drums, pacing with ever-increasing amounts of high-hat whispers before the song finds its balance again, takes a breath and begins anew for another hustle. Then a few breaths. Silence. Echoes. And then everything the band has attacks from all corners with a ferocity reflected by raw distortion and crashing cymbals.
"Schindler's Lisp" starts off with the assumption that it might be the softest of the three, building up its metronome-like momentum with patience and texture. The song quickly enough becomes granulated in timbre and relentless in its pulse, and holds its fury of a grip until the end.
The EP caps off with "Anarchy in the Ukraine," which starts in slow lullaby fashion before building up in an uplifting melody of notes and an array of variations. A surprising bit of piano lingers in the distance before the song breaks into an abstract-tinged ending filled with reverb, cymbals and resonance.
It has to be noted that KUATO is partnering with fellow Nova Scotia band INSTRUMENTS (who everyone should know and love, and who just released an album of remixes), awaking the sleeping giant from its existence of scant performances. Both bands are hitting the road this month around the Maritimes for shows that will surely be epic in sound and megalithic in proportion. Legends are being created; pay attention.
KUATO have the momentum of their songs propelling them forward in a genre that walks a fine line between the epic and the mundane. The band is sincere in its sound, subtle in its details, crisp in its delivery and refreshing in its approach. I'm very much looking forward to their next move in what is already a commendable effort to shake the walls with a finely-tailored sound.
Kudos to KUATO.