MARITIME TOUR DATES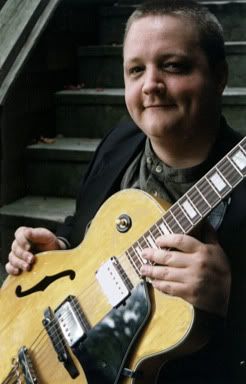 February 14:
TRURO, NS: Roadside Willies (5pm)/No Cover
February 16:
HALIFAX, NS: 1313 Hollis - Clinic (6pm) Concert (8pm)
$20 for both/either
February 17:
FREDERICTON, NB: James Joyce Pub (6pm)
No Cover
February 18:
SACKVILLE, NB: Clinic at Struts Gallery (1pm) $20
MONCTON, NB: Concert at Plan B (5.30pm)
February 19:
CH'TOWN, PEI: St. Paul's Church
Clinic (2pm) Concert (4pm)
$20 for both/either
Mike will also be conducting clinics at
Acadia University and Dalhousie University.
Mike was 11 when he first picked up the guitar and by age 18, his interest had focused specifically on jazz. In 1988, he completed a performance diploma at Edmonton's
Grant MacEwan College
, and proceeded on to a Bachelor of Music degree at Montreal's
McGill University
, graduating in 1992.
In 1994, Mike attended the
Banff International Jazz Workshop
at the Banff Centre for the Arts, studying with greats of modern jazz such as Don Thompson and Norma Winstone. This led to an opportunity to study in New York with the jazz guitar master
Jim Hall
in 1995. In 1996, he returned to Montreal for his Masters' degree at McGill.
Mike has performed with Herb Ellis,
Kenny Wheeler
, Chuck Israels, Ralph Bowen, Joe La Barbera, Guido Basso, Ian MacDougal,
P.J. Perry
,
Tommy Banks
, Denzal Sinclaire, John Stetch and many others. He has three CDs of his own out, Whyte Avenue , Chimbe, and Live from Lotusland, and is a guest on several other CDs.
Mike has taught and/or spoken at a number of music schools, including McGill University, Western Washington University, Vancouver Community College, Grant MacEwan College, Keyano College, Red Deer College, and Carleton University. He has been a featured guest artist with the University of Victoria Jazz Band, and a teacher at the UBC summer music camp, the Prairielands jazz camp in Regina, SK, and the Grant MacEwan College summer guitar workshop in Edmonton, AB. He has performed all over Canada, including appearances at the Vancouver Jazz Festival, and the Festival de Jazz de Montréal.
TICKETS and MORE INFO:
www.mikerudtour.ca
902.986.5299