NEVER MAKE FRIENDS RECORDINGS RELEASE DEBUT SINGLE "FALTER DISCOVER" BY THIS SILENT FOREST
Released Monday 7th March 2011 – Available on CD & download the debut single, "Falter Discover" from This Silent Forest. Recorded, produced/mix/mastered by Chris Gordon (Union of Knives/Baby Chaos/Deckard/Aerials Up/LightGuides) over 4 weeks through October & November 2010 in Glasgow at Riverside Studios & a secret location under Glasgow.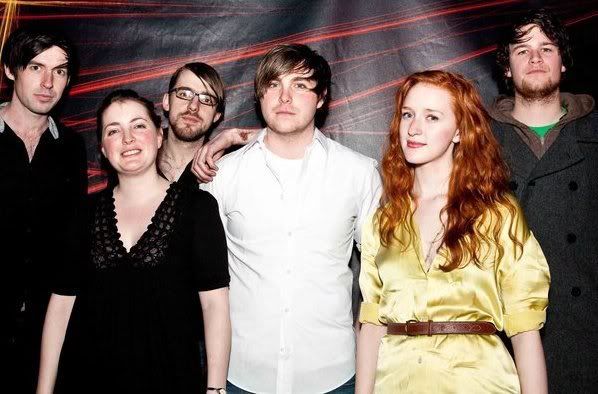 To celebrate the release of "Falter Discover" a launch gig will take place at Stereo, Renfield Lane, Glasgow, Thursday 3rd March 2011. In support will be Donald Macdonald & The Islands & Blochestra. Doors will be 7pm, Tax £3 in advance, £5 on the door.
The release of "Falter Discover" will be supporting the charity Nordoff Robbins Music Therapy, with 10p for each unit being donated. More information on Nordoff Robbins is available at
www.tartanclef.org
or
www.nordoff-robbins.org.uk
.
This Silent Forest
are;
Graeme Macdonald aka Squirrel (Vox/Guitar), Jamie Daisuke (Vox/Guitar), Kevin Smith (Vox/Bass), Lesley Macdonald (Violin/Keys/Vox), Iona Bain (Cello), Iain Stewart (Drums)
A singer songwriter led six piece with one foot in modern Scottish folk and the other in joyous pop. Combining an ability for sculptured melody and street corner tales with affections conjured from Bruce Springsteen's broken American realism to REM's observations on the human condition with quarter given to forbearers Idlewild, Aerogramme & Frightened Rabbit. These are the songs born and bred of Scottish murk, dark humour and the triviality of life's relationships.
The band have shared stages with;
Frightened Rabbit, Rod Jones, Debbie Kate, Lou Hickey, Pearl & The Puppets, Mount Desolation, Washington Irving, Rachel Sermani, Donald Macdonald & The Islands, Scouting for Girls and many more.
"Wonderful folk induced epic", "if you like Frightened Rabbit you need to hear this band"
– Jim Gellatly (BBC Scotland/Clyde 1)
"Explosions in the Sky with a nice voice"
– Dan O'Connell (XFM)
"Phenomenal... Definitely give Chris Martin a run for his money."
– Ally McCrae (BBC Radio 1 Introducing In Scotland)
"Modern power ballad...Epic...Movie Soundtrack..."
– Glasgow PodCart
"They'll make you cry, they'll make you rejoice, they'll make you appreciate music on a deeper level... They've just built a penthouse on that sonic-edifice created by Frightened Rabbit, The Twilight Sad and Broken Records..."
– Muslim Alim (BBC Radio 1 Producer)
http://thissilentforest.bandcamp.com/
http://www.facebook.com/thissilentforest
http://www.myspace.com/thissilentforest
http://www.twitter.com/thissilentfores
http://www.soundcloud.com/thissilentforest
_________________________
Never Make Friends Management
www.nevermakefriends.com
www.detour-scotland.com
www.soundcloud.com/malkyb/dropbox
www.twitter.com/nevermakefriend