by Alex Goyetche
Named after a seedy prohibition-era hotel in Kentville, Nova Scotia,
The Devil's Half Acre
is the creation of singer and songwriter Chase Robert Ross. The work is a stripped down folk-rock blend that sports a host of relaxed melodies and catchy blues style hooks.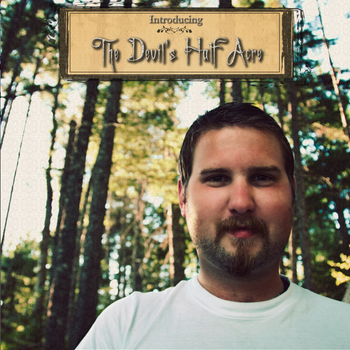 It begins with the tone-setting "Holdin' Back Who's Last". A solemnly strummed, semi-distorted guitar with a few hints of rhythm creeping in, lays the way for a vocal line that is quite a bit louder than the music supporting it, and a shocking sudden addition of a meat and potatoes rock sound with some harmonica churning through the mix.
An album like this wears its influences on its sleeves, so artists like Bob Dylan need not even be mentioned (even though he just was and will be again.) But one comparison I made by the second track was to "Deer Tick", a stripped style of instrumentation and passionate gravely vocals that is a very poignant element of nearly each song.
As it moved along, it became apparent to me that the intros to the songs were generally the best bits. The overall quality began to feel a lot thinner when the drums came in. It is an attempt at a certain timbre that is not quite achieved. The songs themselves are generally engaging enough not to need a typical rock sound behind them, but because of this bolstering, when the band does come in on "The Circle" it begins to sound like Greenday's reprehensible "Like a Rolling Stone" cover.
Luckily this sound is gone on the fourth track, which once again reminds me of Deer Tick, with a little A.A. Bondy thrown in, and shows that what The Devil's Half-Acre does best are crooning songs of unachievable love; or perfectly fine folk-rock ballads.
Around halfway through the album one is able to discern that the songs are well constructed, with definite hooks that make them perfectly listenable, but seem to drag just slightly. It may be that they are just safe songs, that is to say they don't overstep the genre they belong to. While acts like "Justin Vernon", "The Tallest man on Earth", or "Postdata" are able to take one guitar and just a few other instruments and create highly refreshing full-length albums, the same is not achieved here.
The album features a lot of the things that make for a good folk-rock song, but that can be the problem. It sort of creates a nostalgic reminder of other songs rather than a collection of brand new ones.
However, the best part of the album is the climax, so to speak. The final track "Her Mind is Alive", is a 6/8 "Risin' Sun" style ballad with distant reverb heavy vocals that are solid, but that suddenly turn into a heavily distorted "2+2=5" meets Kanye West's "Runaway" type of creation. This time the distorting actually supports its own weight though, and makes for a fairly interesting piece of songwriting.
So it would seem that Introducing The Devil's Half Acre is a solid debut effort that genuinely shows the foundation for what could be a very good songwriting career for Ross, but ultimately doesn't do much we haven't already heard.
______________________
Check out The Devil's Half Acre on Bandcamp -
HERE