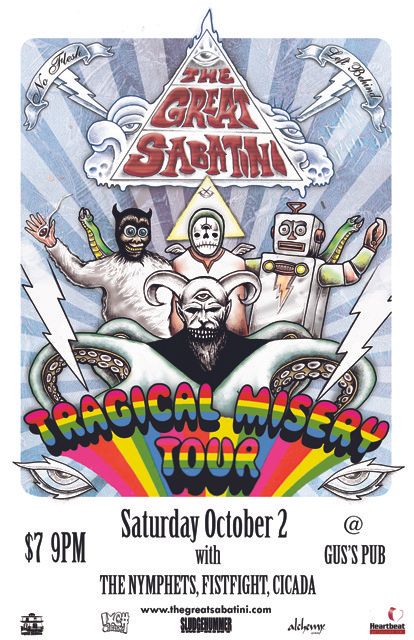 The Great Sabatini rolled into town on Saturday night to give us East Coasters a taste of their traveling side-show, The Tragical Misery Tour. In three hours the audience was treated to four bands, ending with the Sabatini's epic set which attempted to assault as many senses possible.
Cicada
opened the evening by proving that heavy metal and djembes actually can mix. The group consists of guitars, vocals (of the screamy persuasion), drums, bass and (as promised in the previous sentence) a djembe. Cicada's style doesn't venture far from typical heavy metal, so the djembe were quite a welcome addition; they added a lot of texture to the music. At times the djembe were buried in the mix which is a common problem with heavy bands at Gus' Pub. Hopefully someday the bar will get a sound system that can handle the more extreme bands.
Cicada's set was definitely enjoyable. Their sound isn't anything outstandingly new that I've never heard before, but I'm of the opinion that a band doesn't have to be as long as they play with sincerity and write with creativity. Cicada does both. They played well and their songs had a lot of great riffs, kickass drum-fills and impressive bass-runs. These guys really won me over when they played an instrumental jam that was built around a killer riff (the kind that'll make your neck sore in the morning) and a fantastic hard hitting beat. The song barrels ahead with ferocity until everything stops and the singer screams "Kill them all Jason, kill them for mommy!" and the band kicks back in for a hectic hoedown of an ending. More bands should write songs about Jason Voorhees.
Video:
Fistfight
was the second band. Their set began with some technical problems (a guitar that kept shorting out), it ended with a healthy sized mosh pit that included Fistfight's lead singer.
After the technical issues were out of the way, Fistfight proceeded to kick our asses. They combine punk, hardcore and heavy metal to create a sound that goes off like a string of firecrackers. The songs are built around a combination of danceable punk beats and monstrous heavy metal guitars. The vocalist is a great showman, he propelled himself all over the bar (onstage and off) while delivering a versatile and melodic primal scream. The band's set was short but Fistfight made good use of the time, harnessing more energy in twenty minutes than most bands do in a couple of hours.
Video:
The Nymphets
changed things up a bit. Their set was aggressive, fast and loud, but did not contain even a trace of heavy metal. The Nymphets are pure punk rock with a little new-wave sprinkled on top. They had cut the fat from their set entirely. There was no banter, no setting up between songs. It was one song after another with only the clicks of the drumsticks in between. It was refreshing to see a band take this approach of song after song with no downtime. It reminded me of something the Ramones would have done. The songs were frantic with fast yet boppy beats, quickly strummed power chords and melodic yelling vocals. They were definitely a change of pace for the evening, but their set was great; they came up, did their thing, did it well and then they were gone.
Video:
Then of course there was the headliners
The Great Sabatini
. The Sabatini didn't really play a set as much as deliver a performance piece. It was unlike anything Id ever seen at Gus' Pub. It was grand in scope and executed with skill.
The band had three small televisions set up on stage that were programmed to play footage as the band weaved their music. The televisions showed fascinating and often disturbing imagery (my favorite being a demonic looking Mickey Mouse flailing around on the floor). It was almost impossible to take my eyes off of the TVs. The Sabatini's stage presence was also an amazing site. They totally murdered the stage. Their set was designed so that one song would gradually bleed into another, creating something larger than the sum of its parts. Instead of a set of their best tunes, the Great Sabatini turned their best tunes into one amazing overture. It obviously took a lot of effort, care and creativity to bring this kind of show on the road. Especially for a band that is playing small clubs.
The Great Sabatini aren't the type to disappoint. Their set was on the money. It was tight, heavy and utterly intense. Every member of the band is invaluable to the overall sound. They know when to shred and when to step back. At times the Great Sabatini rank amongst the heaviest, craziest band's I've ever heard and at other times they lay down a thick, smooth groove that rolls along, lulling you until the next freak-out.
The Great Sabatini are obviously a band that put a great deal of effort into everything they do. They played an interesting set that totally rocked and they got together a great group of bands to support them. The Tragical Misery Tour is well worth checking out.