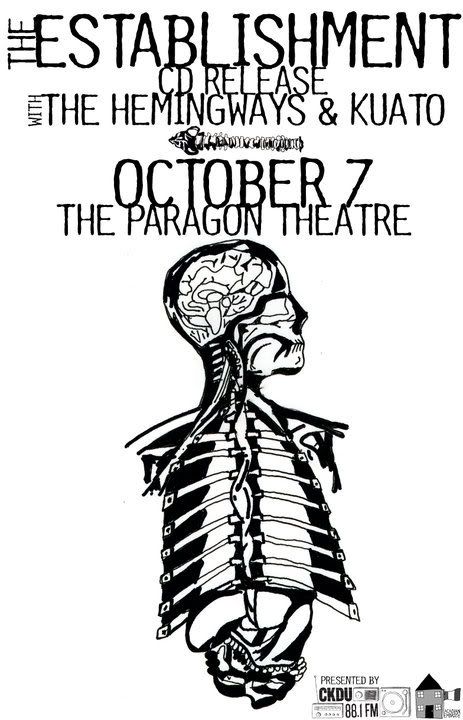 Review by Dan Nightingale
First up was Halifax's newest instrumental rock band, featuring Josh 'Pinky' Pothier of the Establishment on the drums.
Kauto
play haunting, heavy, droning music ala Godspeed You Black Emperor!, Tortoise, Russian circles, and the Mercury Program. Heavy drums drove deep, full bass drones while bowed guitars and heavily effected feedback swooped and soared over top. With a serious focus on dynamic, delayed bass, and heavy, rolicking beats, these guys put on a massive performance for their first show. Without vocals to compete with, dual guitars took turns providing spacey atmosphere and lead melodies. While their sounds were well picked from an extensive history of post-rock music (bowed guitars, warping delay pedals, and fuzzy bass), the sound was polished and tight, save for equipment hiccups like the falling apart of a well worked kick drum pedal.
You know it's a good set when at the end the guitarist turns up all his pedals and screams into the pickups, and I looked forward to seeing these guys again as soon as possible.
Video:
The Hemingways
have been playing in Halifax for approximately... forever, and probably a little before that. As much of a local establishment as the Establishment themselves, the Hemingways play good old fashioned punk, with a hint of (old) new school Fugazi. Short, frantic, and complete with falling down, beer, stage banter about your mom, paper towel setlists, more beer, sweat, and nostalgia, it's doubtful that anyone has ever not had fun at a Hemingways set. It was a fitting lineup for the final Establishment show, who played their first set with these guys so many years ago. I'm not sure who will play the final Hemingways set, as the world will probably be inhabited mostly by cockroaches and microbes by the time they break up - not even the birth of a new baby to drummer Dave Brown managed to stop these guys from playing.
Video:
The Establishment
are, as mentioned in my review of their new album, a Halifax establishment for a variety of reasons. While this was technically but their penultimate show (a date in Yarmouth the day after proved to be, we were informed, a massive farewell afair), a healthy crowd showed up to pay their last respects to a great hard rock band. Needless to say they played all the hits, new and old, with typical swagger and raunchy bass and guitar.

Video:
Pounding drums filled the Paragon Cafe with all of Pinky's best and craziest drum fills. It would be almost foolish to comment how tight these guys sounded, given how many years they've devoted to their music - it seems rarer and rarer these days for Halifax bands to stay together for years and years, rather than breaking up after each album and reforming. While you'll still be able to hear the individual talents of Trevor Murphy (Quiet Parade, Sleepless Nights) and Mike Deon (Bike Rodeo), and of course you won't be missing the next Kuato show, this marks the end of the Establishment. No doubt their influence will be heard in the Halifax (and Yarmouth) scenes for many years to come, and many a band, club, promoter, label, and fan appriciates the hard work, integreity, and kick-ass rock and roll that the Establishment brought to local music.
____________
see ALL the

photos

from this show in the slideshow below
and all the

videos

on our YouTube Channel