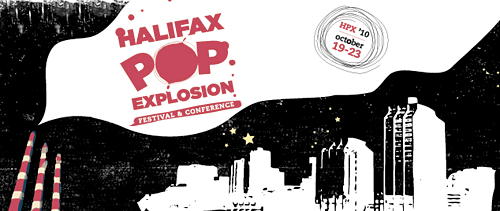 HPX 2010 - Night #1 Recap!
Gus' Pub, The Paragon & The Seahorse
by Isaac Thompson, Dan Nightingale, Tiffany Naugler & Pinky
Isaac @ Gus' Pub
You know a show at Gus' pub is going to be a big deal when the usual dance-floor entrance is blocked off and you have to enter through the back doors. The pub was pimped up with giant ads for the Pop explosion as well as Molson Canadian (an HPX sponsor and, unfortunately, the only beer available that night).
By the time
The Nymphets
brought their super efficient brand of punk rock/new wave, the bar was already unusually packed. The Nymphets are a fun live band. They've successfully cut all of the fat from their songs and their live set, leaving you little time to catch your breath. It's a fast paced show of song after song after song. The Nymphets came packing with more frantic energy than a Tasmanian devil.
Soaking Up Jagged
presented a different kind of punk. Their songs were rockabilly influenced with a focus on jangly "oooh" and "ahhh" vocals. They sounded like the songs a cartoon ghost voiced by Morrissey might sing. The band had a good live sound, but their songs never really deviated much in style. This is great news if you loves spooky rockabilly punk. Otherwise this band might lose you after two or three songs.
By the time
Mark Sultan
brought his BBQ show to the stage, the bar was completely full. Sultan, the former drummer and singer of legendary Canadian punk band Spaceshit, acted as a one man band. He played a stripped down combination of every style from punk to rock and roll to doo-wop. He played guitar and sang while using his feet to operate a small drum set. Sultan's music was highly catchy but had tons of edge, proving why he is as legendary to the punk crowd as he is. The set was fast paced, very enjoyable and showed off Sultan's great sense of humour. It was a fantastic show by a fantastic showman.
Pinky @ The Seahorse Tavern
My favorite part of Pop Ex is how nothing I ever plan works out, but I still have a great time anyway. For example, my plan last night was this.
- Work until 10:00.
- Get a ride to the Paragon.
- Try to catch some of Broken Ohms.
- Drink a beer.
- Watch Kylesa. Drink another beer during.
- Watch a couple songs from High On Fire.
- Walk to the Seahorse.
- Drink a beer.
- Catch the last half of the Superfantastics.
- Come home.
Instead, here is how it went down.
- Work late until 11:10.
- Find out through text I've missed Kylesa.
- Get a ride to the Seahorse.
- Buy beer.
- Stay put.
The thing about Pop Ex is that no matter where you go you are surrounded by people having a great time, which it turns out, is contagious. I walked into the Seahorse just as
Elephant Stone
were starting, I found myself a good vantage point and planted myself for a bit.
Elephant Stone had some really solid songs. Their hooks were really catchy and their vocal melodies were spot on. I found myself drawn into it early on, but after a couple of songs, instead of ending a song where they should have, they would bust into some sort of jam, and the dude on the right side whipped out a sitar and things just went all hippy dippy and they lost me. Don't get me wrong, I think sitars have an incredible sound and are a beautiful instrument.
On their own.
Maybe the sitar is Elephant Stone's "Thing" and I'm just a cranky guy who puts too much thought into things like that. They were just doing so well as a pop band before going all Grateful Dead on us I was disappointed to see them head in that direction. If their songs didn't get all jammy then they would have more time in their set to play the sweet pop hooks and catchy riffs. By the time they had ended I found myself losing interest and made my way around the bar talking to friends.
Once
The Superfantastics
got on stage I was ready for some sweet guitar tones and the husky crooning of front man Matt MacDonald. Being at the first Superfantastics show years ago and watching them sort of develop into their own unique brand of pop duo has been really interesting. I've always felt Matt Macdonald was a strong songwriter, and even some of his earliest songs have maturity in the arrangement.
Their set list was a perfect blend of the best songs off the old records and new material. I had about seven songs in my head I wanted to hear, and they played all of them. It was also a CD release for their new album, Places To Roam
(check the website for details)
. I wanted to get a photo of all the heads on the floor of the Seahorse looking up at Matt Macdonald, but all I got was this.
It looks like Matt Macdonald is playing a show with a thumb. Photography is not my strong point.
Knowing all the songs made the show that much better, I could have sung along, if I were a sing-a-long kind of guy. The Superfans seemed to mow through the set list pretty fast however, and I could have used a little more banter. I saw The Superfans in Vancouver once, and their banter was so on it was like a Rock show and a comedy skit all in one. It's a skill in itself.
After they finished I was at home by 1:00. Not bad for a Tuesday night, Pop Ex obviously has my best interests in mind. A light start to what's going to be one crazy week.
Dan & Tiff @ The Paragon
After a last minute cancellation by second-slotters
Torche
(a great disappointment to myself and many other fans), Halifax's
Broken Ohms
stepped up to fill the opening slot. Much has been said about these guys on Noisography before, but needless to say between the endless pipes of singer Peter Hubley, and the non stop bass riffs and drum fills, these guys weren't out of place at the heaviest of metal kick offs for Pop Explosion 2010.
Video:


A quick and powerful set seemed sufficient to pump up the crowd for the next band, Savannah, Georgia's
Kylesa
. Before the show even began I knew it would be amazing - two drum sets, and towering stacks of amps spread all the way across the stage, plus floor toms, keyboards, and pedals galore ensured a good time. Kylesa didn't dissapoint, and came out full force for a ripping 45 minute set of pyschedelic metal done right. Despite the tasty treat of dual pounding drum sets, most eyes probably had a hard time peeling themselves away from lead guitarist/singer/screamer Laura Pleasants. Though the rest of the band supported the massive sound, Pleasents was the cherry on top with guttural screams, soaring vocals, and face melting two handed tapping riffs. Though I'm sure Torche may have given them a run for their money, in their absence these guys were easily my favorite band of the night, and will probably be a highlight of the festival.
Video:






After what was probably a pleasant surprise for some in attendance, attention turned to headliners
High on Fire.
Despite having half the members the band was no doubt determined to be just as loud. An enormous drum kit (with floor toms for rack toms, and the oft wished but rarely seen twin bass drum setup) was a clear testament to the volume expectations of the band. From stage left, the massive bass stack drowned out most of Matt Pikes guitar sound (no doubt those stage opposite experienced the opposite problem). These guys are probably used to playing slightly larger stages by now, but the crowd still ate it up and the band seemed to be enjoying themselves most of the time.
Video:
As the descendants of famous old school Doom/Stoner Metal band Sleep, I was hoping for more dirge and atmosphere, but the only atmosphere was the long reverb on the vocals. Plenty of steady double kick and chugging bass kept the hardcore metal heads thrashing in the surprisingly sedate center crowd. The best moment for me was probably a few steps back from the subwoofers for the end of "Bastard Samari," as feedbacking bass felt like rolling thunder punching us in the guts.
Overall it was a kick ass show, despite the loss of a scheduled band, and a great way to kick off a fantastic week of music.

____________
see ALL the photos from
HPX Night #1
HERE