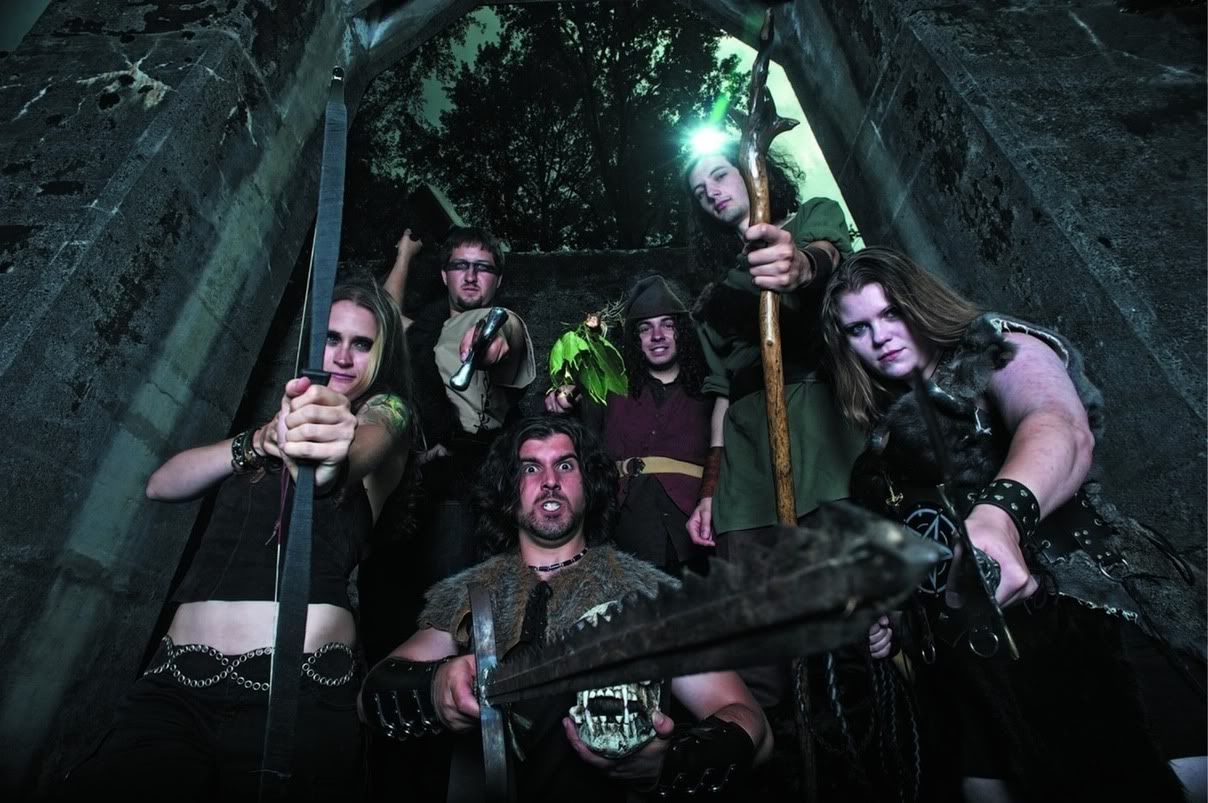 Scythia
…Of War
Location: Vancouver
Genre: Folk Metal
________________
Review By Ira Henderson
Folk Metal seems like something Robin Williams would call a Volvo with a gun rack. It sounded to me like something that would appeal only to whoever buys those novelty battleaxes you see at the knife store in the mall. When I went to Scythia's bandcamp webpage to listen to their debut album "…Of War", a photo of the six band members dressed up like the South Park kids in full Good-Times-with-Weapons-meets-The-Return-of-the-Fellowship-of-the-Ring-to-the-Two-Towers style seemed to confirm my suspicions that this might be a little over the top. But these guys don't just go over the top. They charge over the top, half-naked and screaming, brandishing broadswords and riding grizzly bears, like the mythical warriors in the painting that inspired their band name. You can get that image on a shirt on their webpage
http://scythia.bandcamp.com
These are some very skilled musicians and their music is confident, playful and eclectic. The major themes are definitely folk and metal, relying most often and most effectively on a marriage of violin and tin flute with heavy double-bass drums and face-melting electric guitars. There are, however, more to it. The band is not afraid to throw in a little gypsy-jazz guitar run or a ragtimey piano bit here and there. I swear I heard at least two Dethklok references and an Eric Clapton lick. More than once I had to pause the album and rifle through my itunes library, trying to figure out where I'd heard that riff or that drum line. Was it Buckethead? Dream Theatre? Sound Garden? Nine-Inch-Nails? Zappa? Muddy Waters? Fucking… Elton John? WHAT!? …I never did figure it out… That is not to say, of course, that this album is not sonically and thematically unified and coherent. The album maintains a consistently epic, heavy and atmospheric sound, while making brief exploratory forays into several disparate musical avenues, and always comes back to a solid Folk Metal base.
The production on this album is good. Shaun Thingvold, who has also worked with SYL, Fear Factory, Darkest Hour and more, maintains a delicate balance between the heavily distorted power-metal guitars, with their phasers and flangers and whatnot, and the misty, reverb-laden violin and flute and acoustic instruments. The heavy music sometimes muddies up the vocals a bit, most notably on the second track, "Fierce Riders of Scythia", but that doesn't matter too much because if this band falls short anywhere, it's in their lyrics.
In keeping with their eclectic musical style, the vocals on this album range from airy male-female harmony on the opening track "Caspian Rhapsody" and "Epilogue" to epic chorus-backed male leads on "The Black Death" to call-and-answer between the epic lead and an I-don't-care-if-you-can-tell-what-I'm-saying death metal growl on "Red Wizard". Frankly, though, I don't care what they're saying. Their lyrics sound like someone telling you about their D&D game. Not that there's anything wrong with D&D, but a second-hand accounts after the fact tend to be boring, repetitive and thematically insubstantial. The album is loosely book-ended with "Caspian Rhapsody" which asks us to listen to the tale of a wandering minstrel with a stringless lyre in a land built of steel and conquest, and "Epilogue", which talks of the six warriors(who come up in a few songs and refer to the six band members) laying their souls to rest at the end of a journey that involves walking through scorching fires and other discomforts. When they do seem to be trying to say anything it comes across as either trite and inane, "Oh Red Wizard, please tell us how we can heal this broken land", or disturbingly militant and simplistic, "Maelstrom of anguish released from desert sands; we stand surrounded and without a prayer at hand. These vile foes will cut us down tonight if we don't find the weapon to uphold the light." Of course, I may be reading too deeply into and expecting too much from something that's just supposed to be fun.
Really, this is a fun band (their live show is reputed to be pretty energetic, but unfortunately their album release tour doesn't include any Maritime dates) and a good album. Scythia are at their best when they are being playful, which they are most of the time. My favourite song on this album is Dies Irae Pt.1, which, in just under six minutes, starts with wind and a wailing guitar, wanders all over the musical map, and ends with swords clashing and thunder rolling. It's epic.
I'm not going to do a song-by-song analysis because that's the part of an album revue that I usually either glance through or skip entirely. If you get their album online it's pay-what-you-want, or you can just stream it for free, so give it a listen yourself at
http://scythia.bandcamp.com
_________________
Scythia will be on their "Exiled Across Canada Tour" in the following cities:
October 9, 2010 - Pogue Mahone, Kamloops, BC
October 14, 2010 - Brandiz Pub, Vancouver, BC (venue change from Pub 340)
October 15, 2010 - Brooklyn Lounge / Lake City Bowl, Kelowna, BC
October 16, 2010 - Voodoo's, Penticton, BC
October 17, 2010 - Vern's, Calgary, AB
October 18, 2010 - TBA, Regina, SK
October 19, 2010 - The Zoo, Winnipeg, MB
October 20, 2010 - Kilroy's, Thunder Bay, ON
October 22, 2010 - Smiling Buddha, Toronto, ON
October 23, 2010 - Coach and Horses, Windsor, ON
October 24, 2010 - TBA, Waterloo, ON
October 25, 2010 - Hard Luck Bar, Toronto, ON
October 26, 2010 - Top Shelf, Ajax, ON
October 27, 2010 - Bar Octobre, Quebec City, QC
October 28, 2010 - Bar Le Magog, Sherbrooke, QC
October 29, 2010 - Le Stage Rock Cafe, Trois Rivieres, QC
October 31, 2010 - Katakombes, Montreal, QC
November 1, 2010 - TBA, Sudbury, ON
November 3, 2010 - Parthenon Pizza, Brandon, MB
November 4, 2010 - Walker's Night Club, Saskatoon, SK
November 5, 2010 - DV8, Edmonton, AB
November 6, 2010 - The Dirty Jersey, Kamloops, BC
November 7, 2010 - Funky Winkerbeans, Vancouver, BC