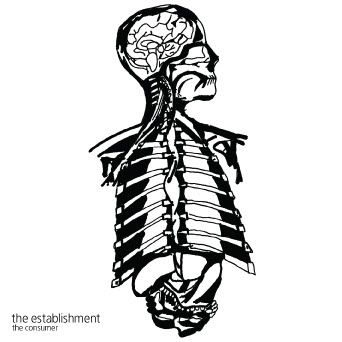 The Establishment




Album:

The Consumer

Click here to download the track '

Give Up'

from the new album!
__________________
Review by Daniel Nightingale
The Establishment are, well, a Halifax establishment; their long overdue album The Consumer sums up years of heavy hitting drumming, grinding bass, wailing guitars, and solid as steel song writing. The album, which clocks in at a svelte 20:49, kicks off with Give Up; shouted gang vocals echo over a rhythmically intense riff – a pattern that will repeat through the album, to great effect. Mechanistic starts off with more mathematical riffs that become the hallmark of the band – just the right combinations of off kilter, swirling polyrhythms with solid, four on the floor rock and roll riffs on the choruses. Equal parts punk rock, DC-inspired math rock, and cocky rock and roll, it's impossible not to bang your head to the incredibly catchy beats and chunky riffs. The level of "heaviness" is in the perfect sweet spot – the guitar is dirty, and so is the bass, and the drums are clearly being beaten to within an inch of their life, but there's space between the instruments, which probably explains why the 3 piece line up works so well – the bass and even the drums cover enough sonic ground to make a second guitar pretty unnecessary.

With an album this short there's really not a lot of critical review to partake in – the songs are fast, but not too fast, intense, catchy, and tight. There are 8 of them and they all sound different, but with the same trademark sound. Despite typically being know for having a heavy handed drummer, there are quiet parts in just the right places. Those familiar with local music will no doubt hear the dirty Yarmouth guitar sound of Contrived or Burnt Black, and the skronky lead guitar teases of North of America on tracks like 'Signals.' The sonic attitudes of bands like Fugazi, Refused, Shellac, and At The Drive In are all present, though if my assumption of the hand of one J. Lapointe having recorded, mixed, and mastered the record is correct, his sonic signature is clearly present as well.
Though lyrics aren't my forte, I made a point of trying to tune into the vocals through out: "This ain't New York, I can say what I want" shouts vocalist Trevor Murphy over the frantic drumming of Only Exercises. Bouncing seamlessly between multiple vocalists, all the vocal deliver is strong and emotional, and never pulls any punches. The songs are short and to the point – there's no long bridges, or between song ring outs. Some of the tracks seem to blend together, but that may just be due to my fresh off the mastering presses, all in one file copy. I've always been nostalgic for cassette tapes, my first rebellious medium, so I appreciate being forced to listen to the whole album in one shot (which isn't hard given the length and the abundance of catchy grooves).
What might be my favorite track of the album, Atlantis, sounds almost like a heavier Shipping News track, with driving bass and reverby shout/sing vocals. Great gang vocals run into a heavy-as-balls, RATM-esq half time riff, breaking down into digital sounding feedback. The vocals overall have a very Albini style sound, emerging in the quieter parts but forcing the vocalists to shout over the heavier riffs, which really gives a nice sense of "trueness" and intensity to the music – like hearing them in a crowded bar with a shitty PA, or how bands always imagine themselves in music videos where the camera shakes to indict immense awesomeness.
My second favorite track, Sit and Wait, features a band playing on top of itself, distant bass grooves quickly over run by palm muted guitar chunks. More great vocal variety makes this a standout track – falsettos, gang shout-a-longs - if it were up to me I might have considered starting the album with it, just because I always appreciate the idea of someone turning up their stereo to hear the quiet intro parts, only to be blasted into their seat when the real song kicks in.
While it might be a bit of a stretch to call this a political album, it certainly has the air of politically charged album – songs like Atlantis, Sit and Wait and The Consumer talk about poverty, change, complacency, nation states, and dead movements. "Don't sit and wait for nothing, don't sit and wait for change" urges the band. It's nice to hear a band who's lyrics range outside the typical "girls, movies, jobs, and something we kinda misheard on a Bowie record once." This album contains anger, both in it's sound and in it's message, but not in a whiny teen angst way. A lot of bands seem to avoid serious subject matter to make it easier to pass off weak delivery, but these guys don't have to worry about that.
All though all the members are playing with other bands now, it's clear that The Establishment will, and have, left a pretty serious mark on the Halifax music scene – one need not look further than their numerous other bands including Quiet Parade, Bike Rodeo, Kuato, The Sleepless Nights, and many more. You'd be a fool to miss Thursday's CD Release (at the Paragon cafe), and to not pick up a copy of this sure to be classic disc of homegrown smart, heavy music.
____________________
The Noisography Crew will be down at the Paragon for this epic night of awesomeness, and you should be to!



Check out the

Facebook Event

for all the details!!!