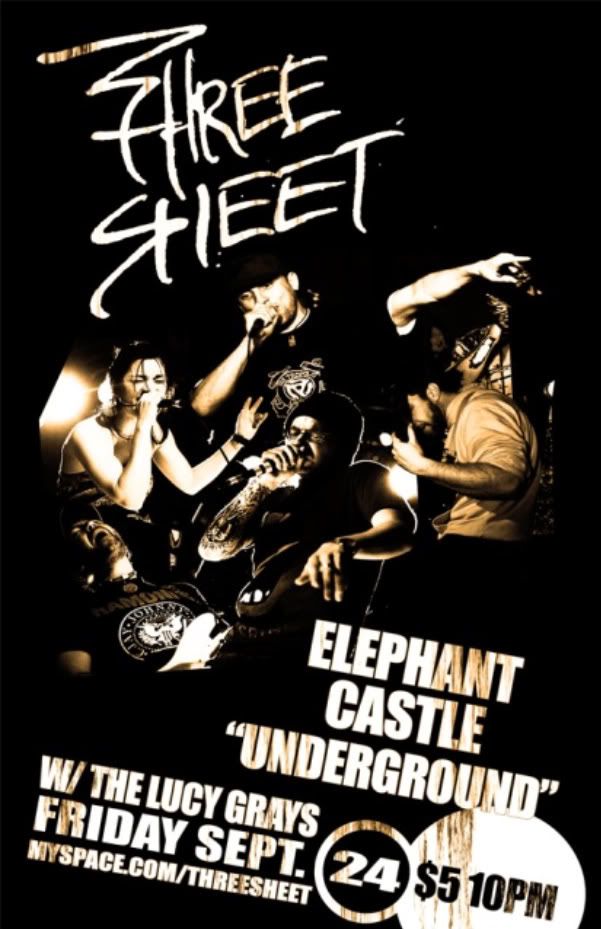 Introductions:
- Name of Artist/Band? (Please include all band members names and instruments played.)
Three Sheet
Matt Kliffer - MC
Eric McIntyre - Beatbox
Vanessa Furlong - MC
Ryan O'quinn - Guitar
Kevin Tilley - Bass
- When did you form your band? What inspired you to make music together?
The band was formed in 2007 composed of only three members at the time: Expedyte, Ryan O'quinn and Gray Winchell, and it was only a few weeks into jamming as a band that we asked bass player Kevin Tilley to hop on board. Gray moved out west to persue personal goals early in 2008 and it took several months before Expedyte contacted beatboxer EMC to join the band as the new percussionist. Three Sheet was also interested in a female singer and Vanessa Furlong just so happened to be EMC's girlfriend, she made her way into the band 2 months after EMC joined. So essentially this band has had 2 beginnings, and the real "Three Sheet" stood up in January 2009.
I'm sure we all have our own personal inspirations to make music as we all individually did for years previous to Three Sheet, but as a unit I believe we are inspired to make and/or create something that can genuinely be considered 'something new, exciting, and honest'.
- Have you recorded any previous CDs or posted any audio files on the Internet? (What type of recording process did you use? Who produced your recording? Where can we find them?)
We released our first and only album to date titled "In Circulation" on August 15th, 2009. Our recording process was pretty standard for the most part, besides of coarse the difficult task of recording beatbox as the soul instrument of percussion. It took place in a home studio and we tracked everybody one person at time. We are still working on the formula, and it looks like we are onto something for the second album, watch out!! Three Sheet produced the first three sheet album as a unit with technical assistance given by Neil Isenor. "In Circulation" is in stores in Halifax or available at any live show, if you are looking for a digital copy you can get it on itunes, and if you want a physical copy but can get to a show then you can order it in at any Chapters, Indigo, or HMV outlet across Canada.
- Who are your musical influences?
A vast range of musicians influence all of us differently! I can safely say that The Roots and Rage Against the Machine would be the top influences of our band as a whole.
Playing Live:
- Give us an idea as to what its like to see your band live:
Seeing our band live is like being born again except this time you remember it perfectly, ever imagine what that would be like?
- Any fun, funny or disgusting touring stories you'd like to share?:
On tour we put our Three Sheet stamp on what we thought was a St. Hubert's sign, turns out it was one of those windows that you can't see in and can only see out so everyone saw us do it, and when we fled Ryan literally T-boned a curb and did a cute number on our rental vans front tire. We all love Quebec a lot.
Other Stuff:
- Do you guys have any other hobbies besides, obviously, making music?
Expedyte is a rock hound and geologist, EMC skateboards and likes to produce beats on the side, Vanessa has her own clothing line, Ryan likes to play guitar when he's not playing guitar, and Kevin has a special taste for making delicious cheesecakes.
- What are your rehearsals generally like? Do you have a set time each week in which you practice or are rehearsals more spontaneous?
They are definitely a bit of column a and column b. We always schedule jams and rehearsals but times change from week to week so there is some improvisation going on. A good spontaneous jam is never out of the question either...
In closing:
- Tell us anything you think we should know about your band - (upcoming shows, releases, links to facebook/myspace/bandcamp ect.)
All of our music is beatbox percussion, and nope, there are no tools assisting us in either our live or recorded music.
~No Samples. No Synthesized Drums. Strictly Live Beatbox, Vocalization and Instrumentation.
Upcoming shows:
Halifax Pop Explosion -October 23, Tribeca, Halifax
Music Nova Scotia Week - November 4-7 (nominated New Group of the Year, Hip Hop Album of the Year)
Pending Western and Central Canadian Tours for Fall, 2010
New Singles planned for November 2010!!!
Links:
myspace:
http://www.myspace.com/threesheet
facebook:
http://www.facebook.com/pages/Three-Sheet/74256272845
youtube:
http://www.youtube.com/watch?v=qqWZlrGU5Gc

Star Wars or Star Trek?

(keep in mind, this question could make or break you)

:
Can Star Wrek be an answer to that?