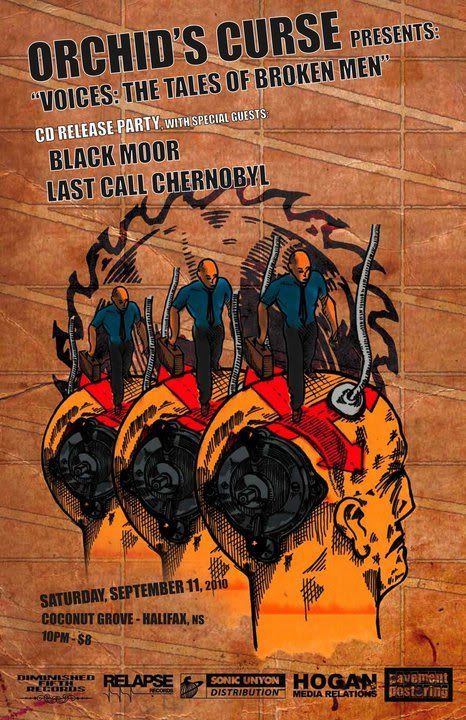 ORCHID'S CURSE
-
http://myspace.com/orchidscurse
BLACK MOOR
-
http://black-moor.com/
LAST CALL CHERNOBYL
-
http://myspace.com/lastcallchernobyl
http://diminishedfifthrecords.com/
http://hoganmedia.ca/
Last Call Chernobyl
was up first, and they played with the newly realized confidence of a band that's toured far and wide. Their musical acrobats and sheer force were astounding at times. Vocalist Kyle Mahar has one of the most versatile screams in east coast metal. A lot of metal vocalists stick to one style, but Mahar is able to go from a deep scream to a melodic breakdown to the harsh talk/yell vocals, and adapt with the music as needed.
The thunderous, King Kong beats provided by Josh Pellerine hammered in a solid groove that was peppered with impressive intricacies. Some metal drummers don't know when to let up with the double bass, but Pellerine knew just the right time to bring it in for full effect. Matt Moulton absolutely shredded with one head spinning solo after another, and seems to have developed a fondness for the 7-string guitar since last we saw them. Bassist Jason Szeto, ever the showman, pumped the crowd up to a fever pitch while pummeling them with the pulsing boom of his bass (how he manages to play it while practically touching the ground in the now classic heavy metal 'crab walk' I'm not sure). Last Call Chernobyl may be one of the most challenging and progressive metal bands in the city.
Black Moor
obviously aim to take metal back to its 80s garage-thrash heyday. The tight leather pants and patched up denim, the long greasy hair, the heavy riffs and difficult scales in the vein of Megadeth and early Metallica, the shrieked vocals and the unbridled sense of fun; Black Moor delivered on their goal and then some.
Their music harkened back to the days when heavy metal was a never ending party as well as a perfectly good platform to discuss J.R.R. Tolkien and H.P. Lovecraft. These guys bring back two essential traits of metal that seem to be missing from today's bands: humour, and liberal application of the dual harmonized guitar solo. Black Moor's set was a fun, raunchy riot and their songs kicked ass in a way that felt nostalgically fresh.

Video:



After a quick raffle for some metal themed door prizes (like copies of DR5 records and tickets to Black Label Society and Clutch), headliner's
Orchid's Curse
played their newest album 'Voices: The Tales of Broken Men" in its entirety, and it would be shocking if every single person there didn't buy a copy. Orchid's Curse played one brutal metal masterpiece after another to a crowd that ate it up and begged for more.
Bonus member Rob Corrigan , engineer/co-producer of the record, joined the band to add keys and additional material to recreate the sonic landscape of the album in the live setting. Their set was on fire; they had the crowd chanting along, moshing like rabid dogs and drinking their faces off. It was one hell of a party. Their music is undeniably heavy, but it's also dense with trippy excursion and ethereal edges to the intensity. Orchid's Curse is a band to watch in the local metal scene; they play with sincerity, brains, skill and humour.
Video:
_____________
review written by Isaac Thompson & Dan Nightingale


To see all the videos, visit us at our

youtube

page
and to see all the show pics

- click here -