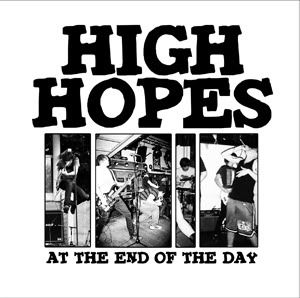 HIGH HOPES
At the End of the Day
Self Released
http://www.myspace.com/highhopeshc
Genre:

Hardcore / Punk


Location:

Vallentuna, Sweden
_________________
Review by Josh 'Pinky' Pothier
This short 5 song EP has all the variables of good punk rock.
(Lots of yelling + Gang Vocals) x (Fast riffs + A drummer that can keep up)
(Real quick and punchy pauses) – Short songs
It's recorded well, everything is clear and audible but still a little rough sounding. The songs are fast and well arranged and the singer has a pretty good shouting voice. If I owned a pair of black army boots I would probably put them on and stop around my house, but since I don't I'm just gonna go watch the fourth season of OZ and see what happens after the French guy shoots everyone because Wangler kept taking his shoes.