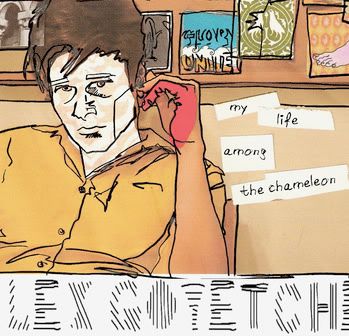 Review by Dan Nightingale
This was an odd situation.
I had received this EP to review quite some time ago and it wasn't until I was 3/4 through the review when Alex actually became apart of the Noisography team. So I assure you now, the review you are about to read is a completely unbiased opinion.
_______________

The album opens with fantastic sounding acoustic guitar that reminds of me Jimmy Page's acoustic work. When the vocals come in, the only other musical component of the album, you know you're in for a treat. Goyetche's voice is rich and mature, though he's only 19 years old. It doesn't seem to be derivative of anything, though it certainly has the higher tone of quote unquote "emo" bands like Dashboard Confessional or Cap'n Jazz, though the lyrics and music are definitely beyond typical late 90's alternative.
Obviously a big part of reviewing this album will be the lyrics, which I'm not the best at. I tend to listen to instrumental music, so an album like this is somewhat out of my usual circle. I've been listening to the album and working on the review for some time now, trying to pick apart all the musical nuances. In my mind I've separated these 4 songs into two parts, the guitar and the vocals. So far I've only been able to hear the guitar, which is played with extreme confidence and excellent dynamic. Goyetche seems to have that timeless 'rhythm/lead' style where one moves fluidly between chords and melodies, which works very well to provide a full sound to the album despite the solo instrumentation.
On another listen, I try and make a conscious effort to listen to the lyrics. I have to start the tracks over a few times, and try and ignore the guitar, but it's worth it. "She can never be mean / because life is fun when you're young / and there's no reason to be a step ahead of the rest" he sings on 'How to Draw the Human Head.' Together the three components at work here – the guitar, the vocals, and lyrics – fit together like perfect pieces of a jigsaw puzzle. "Ivory Rose" Starts off with slow, dramatic chords, like a mid career Radiohead song, with a haunting chorus. As the song comes to a close you can almost feel the emotions in Goyetche's soaring voice, which strains almost to a shout, but stays firmly melodic as he sings "She's a plaster cast / hollow inside / but a stable mind / is preoccupied."
Clearly a lot of work has gone into these lyrics, but with the excellence of all three elements one can't help but think he must have a natural gift in at least one of them, lest the rest of us struggling songwriters give up and throw in the towel upon hearing the grace with which Goyetche has mastered all these muses. On 'Miracle Cure,' which features more highly polished and streamlined guitar work, he sings "Excuse me sir or madam / would you swallow cyanide? / It's a miracle cure / for every symptom outlined" which I think sums up the content of the album fairly well – it's sad, but hopefully, it's strong, and it's nostalgic – at least that's what I get from it.
Overall I think this is one of the strongest debut albums I've ever heard from any musician, especially one this young. This could, and should, be the start of a breakout career for a fabulous Canadian singer-songwriter. "Thank god it was only a dream," he crones as the album comes to a close, but on the strength of this EP we would hope that Goyetche's career is more than a dream. Solo acoustic acts can be a tough sell to start with in a rock, punk, metal, and indie oriented scene, but we have no doubt that you'll be seeing this young man open up any good show in the near future, and hopefully take the headlining slot sooner or later.