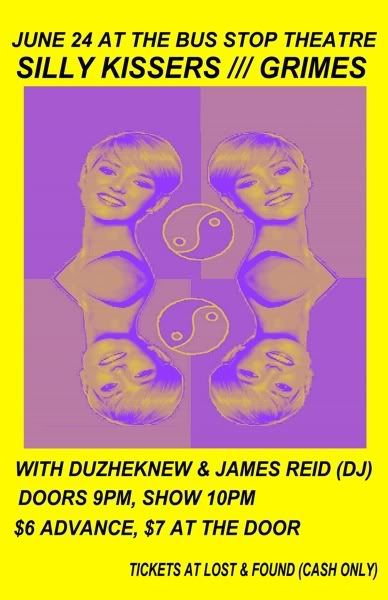 Last Thursday Halifax was occupied by invaders (of the disco/new-wave revival persuasion) from a foreign land called Montreal. After giving 8 hours of my live that I'll never get back to the ol' day job and then hopping into a cab and explaining to my driver that I wanted to be dropped off at the Bus Stop Theatre and not an actual bus stop, I was able to examine these strange life-forms from a safe yet revealing distance.
First our ears and dancing shoes were treated to Duzheknew. Although their name is unpronounceable by the human tongue, they are homeland ambassadors, representing the great nation of Halifax.
Duzeheknew had a fun, boppy sound that drew from quirky bands like Talking Heads and Elvis Costello & the Attractions. The music was trippy and spacey at times but managed to maintain a steady stripped down quality like the best bands of the CBGB glory days. Their set ended with a double drum kit jam which is always awesome.
In between sets DJ James Reid kept the crowd dancing to 80's classics. The song "Gimme Gimme Gimme a Man After Midnight" has been stuck in my head since that night. If any of you folks out there in internet land know of an exorcist who specializes in Abba hook removal…. Help a brother out.
Once the locals had settled, our first visiting act hit the stage. Grimes (from Montreal) was a one-lady show of ethereal gothy pop full of effects, vocal layering and drum loops. The dreamlike quality of her music was very original and interesting. Grimes had a beautiful, angelic voice and she could hit notes so high that if I was a dog I would have passed out and bled from my nose.
There were a few technical problems with Grimes' elaborate setup. There were a couple of points where these glitches caused her songs to derail and she'd have to stop and start over. That hurt the momentum. Even when the songs went well she was quite apologetic about her set (she said sorry an awful lot for someone wearing an Anarchy t-shirt). She didn't need to be apologetic though, the crowd was genuinely interested in her music and when the songs worked they really worked. It's gotta be hard to play in a foreign city to new crowds but I'd like to see her have a little more confidence in her winning sound.
**Video removed as per artists request
Sorry folks!
Next up, Silly Kissers stepped off the mother-ship to bring us a message of peace, love and synthesizers. Their strange powers compelled the crowd to hop around as though they were taking part in a mass seizure.
Silly Kissers sound was pure 80's. I heard nods to everything from cheesier acts like Simple Minds & Blondie to moodier bands like the Cure, the Smiths and Joy Division.
The band had a fun sound and outfits that looked like they were assembled by a blind man at a clothes swap (I'm talking mismatched sweats, skirts, tight black jeans and rhinestone tigers).
The drumming was fantastic; energetic and precise. Jane Penny mostly handled the vocal duties, but at times would switch up with keyboardist Dave Carriere. Having two lead singers helped versify the bands sound a little. The songs Carriere sang were the strongest ones; his voice is perfect for the 80's sound the band was going for.
Video:


Yes, in Montreal it seems the disco never closes. Halifax was treated to a glimpse of how the other half lives on Thursday night and most in attendance seemed to be grateful for the opportunity. Hopefully our fair city will be visited by more bands from this strange land so we can learn more about their customs and perhaps teach them some of our own.
Klaatu barada nikto!
See the rest of the photos from this show
- HERE -
______________________
Photos/ Video:

Tiffany Naugler
Review:
Isaac Thompson
_____________________
Want us to come to your show/ review your album?
Shoot us a message!
noisography@gmail.com