This time around we thought we would do something a little different...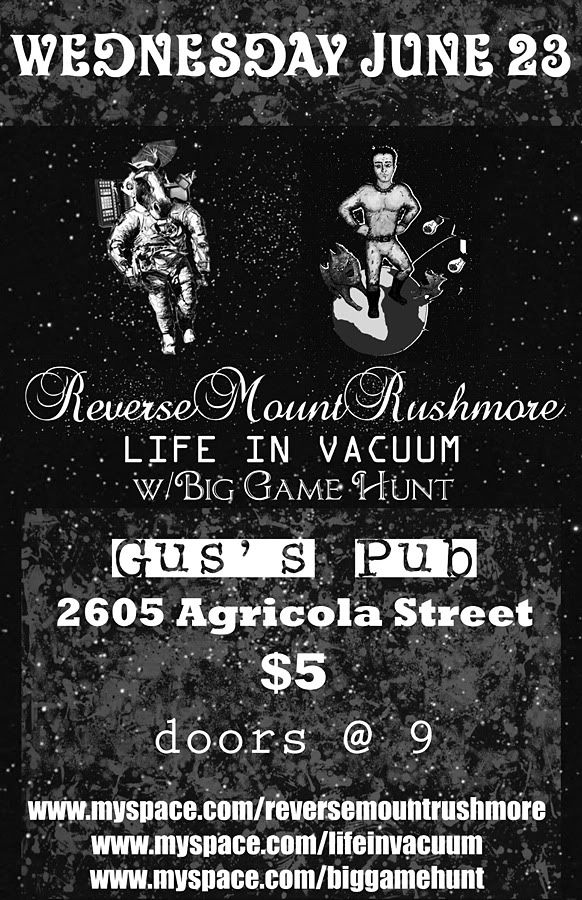 Issac:


The Bad Bad Bad
kicked off a fun night of heavy music by bringing it back to its roots. The band is a three peace that plays stripped-down bluesy rock in the vein of Led Zeppelin, Cream and the White Stripes. The songs were short energetic and simple. The song structures were the tried and true method of verse-chorus-verse-chorus-solo-chorus. It worked well for them. The solos were inspired and unhinged sounding. I have a real soft spot for the blues, especially when it's played loud and The Bad Bad Bad definitely delivered.
Dan:
These guys were a raw, Halifax trio with a sort of power-blues thing going on, complete with extended electric guitar solos. A spacey-vocal mic and some nice freakout backup vocals, they definitely had a harder, more modern edge. Some of it was a little loose, but that's not really a crime when you're playing the blues. I like that the band avoided typical blues chord changes and created more of an intense, punk rock sound.
Dan:
Life in Vacuum
is a striped down, raw sounding band with a nice dynamic range. Soft melodic interludes mixed with screamed vocals, and heavy bass and drum hits. Mixing straight punk rock beats with intense noisey breakdowns, they reminded me of the intensity of bands like Slint or Polvo. They're not alone in their tradition of great Ontario math rock bands, but it's some of the best I've heard. These guys wouldn't be out of place playing with a lot of great Halifax bands, or bands like Metz and Young Widows.
Issac:
Life in Vacuum, from Kitchener Ontario, sounded quite different from the rest of the line up. Their songs were heavy but they were more punk rock than heavy metal. They played a quick set that mixed melodic power pop with throat shattering screams and hard hitting drumming. Life in Vacuum's song writing was really strong and their energetic, sweat-dripped set was an awesome shot of adrenaline. Life in Vacuum has a new album coming out called "Commander Clark". It's a concept album that comes with a comic book and based on the tracks they've posted on their Myspace page, it should be worth keeping an eye out for.
Issac:
Toronto's
Reverse Mount Rushmore
were in town supporting their fantastic new record "The North Dakota EP". Their live show proved to be as energetic and fun as the EP. The band hurled a big stick of sludgy-stoner-rock dynamite into the center of the crowd at the beginning of their set and never let up. While their sound is sludgy and Sabbathy, it's never slow or lazy sounding. The songs are jacked up with driving beats, Queens of the Stone Age style guitars and catchy, melodic vocals. The band had an amusing onstage banter and the most enthusiastic keyboard player you've ever seen!
On a side note, Noisography
interviewed
Reverse Mount Rushmore not long ago and when we asked them the story behind their name they said it was too shocking to reveal, which of course piqued my curiosity. I went straight to the Urban Dictionary and looked up the term "Reverse Mount Rushmore". What I found was indeed both shocking and hilarious. I won't share it with you here, but I urge those of you with strong stomachs to do some research of your own.
Dan:
RMR were a great transition from the noisy-yet-sweet energy of LIV into the heavy, thick hard rock tone of headliners Big Game Hunt. The band had a very slight edge of 80's synth-punk sound pounding out relentless stoner rock beats. Sometimes the distorted bass felt a little too intense for some of the songs, as it didn't leave much dynamic range. It was hard to hear the keyboardist's playing – between the gaps were some great sounds – but his enthusiasm was unparalleled. Guitar solos echoed 90's desert rock inspired meltdowns, with thick searing tone. The vocals were a little hard to hear on the underpowered sound system, but they were a good fit for the music. Great melodies and the synth layers I could hear gave the band a catchier sound than similar heavy bands, and when the thick-fuzz guitar held back for vocal cues, they gave a good range and a chance to hear the singing better. One song (see videos) had a great catchy intro complete with electric-evil breakdown, and tight blues riffing before ripping back into heavy melodic riffage.
Dan:
Big Game Hunt
are a staple of the Halifax scene, and their sound has been pretty consistent over the years. They really focus on the thickest, heaviest sound possible – no show ever really pummels me in the guts like a BGH show (the added bonus of touring band SVT stack helped here). Guitarist Roger Nelson always manages to spew out a crazy thick tone even with Fenders (it must be in the pedals, or just the 'everything-on-10' method that produces the best heavy sludge)
Issac:
Big Game Hunt have been around the Halifax scene for years now and I've seen them many times. They're one of our best local metal bands and their live sets are consistently great. Their songs barrel along with heavy as hell riffs reminiscent of some of heavy metals earliest bands. Mat Duncanson (drums) and Nick Lawrence (bass) create a rhythm section that grooves and pulses waist deep in sludge. Vocalist Jordan Rose stomps around the stage in a trance, spitting a melodic growl similar to Pantera's Phil Anselmo. If you're an east cost heavy metal fan and you haven't seen one of Big Game Hunt's live shows you are missing out.