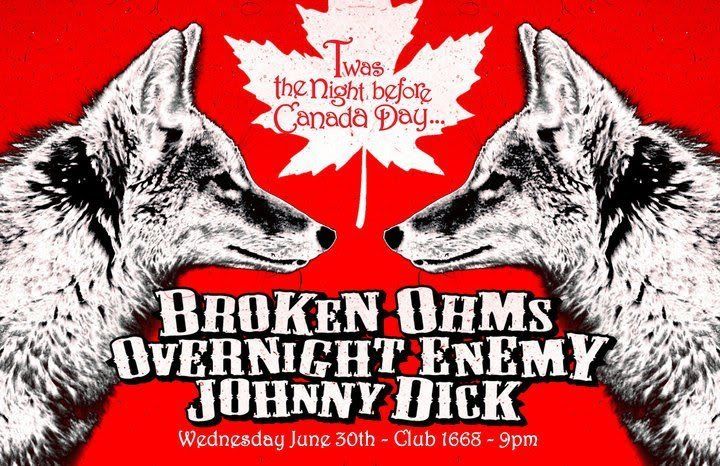 BROKEN OHMS
http://www.myspace.com/brokenohmsmusic
OVERNIGHT ENEMY
http://www.myspace.com/overnightenemy
JOHNNY DICK PROJECT
http://www.myspace.com/thejohnnydick
The show is this Wednesday - the prefect night to have a show... mid week, the night before a national holiday! We caught up with Andy and got the low down on the band to get you PUMPED to see these guys down at Club 1668!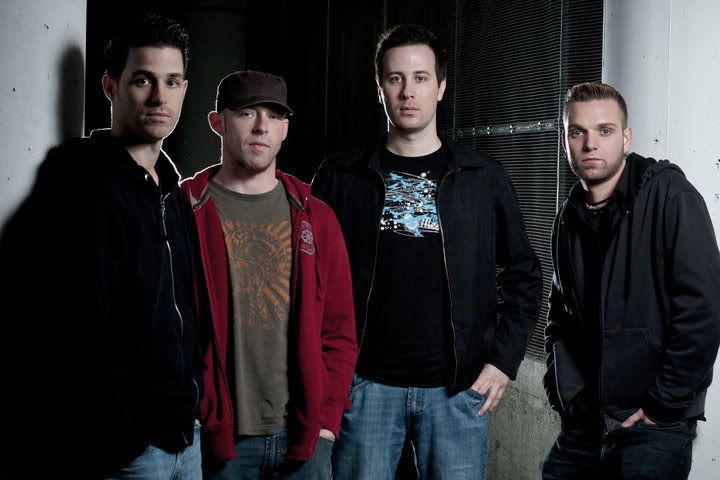 Photo by Jay Hendry

Introductions
Name of Artist/Band? (Include all band members names and
instruments played).
Matt Melvin - Vocals
// Andy MacLean - Guitar
//
Jarrett Sullivan - Bass
// Matt Wilson - Drums
Is there a story behind the band name?
One morning, I was eating Alpha-Bits and when I looked down, the words
'overnight' and 'enemy' were formed in the bowl. 'Pentobarbitone' was
in there as well but I couldn't really do anything with it
When did you form your band? What inspired you to make music together?
OE was born in 2007. Matt W. and I have been jamming together off and
on since we were kids but we never seriously considered making a go of
it. Once Jarrett moved home from Calgary and joined us, the chemistry
became too strong to keep hidden in our basements so we decided to
move forward. Eventually, we met Matt M. through a mutual friend and
we couldn't have found anyone better to front the band.
What kind of music do you make?
Aggressive, melodic and intense music you can bang your head and shake
your ass to. Often simultaneously.
Has your music evolved since you first began playing music together?
Tenfold. When I listen to older jams and compare them to more recent
songs and what we're doing now, the difference is very noticeable.
The core of our style is still there but we're taking steps in
different directions and getting better at fusing our tastes. The
band, individually and together, continually gets tighter and more
tuned into each other so it's a natural process.
What are your rehearsals generally like? Do you have a set time
each week in which you practice or are rehearsals more spontaneous?
Definitely spontaneous. Scheduled rehearsals feel forced which can
kill the feel and enthusiasm so we just make a point of jamming a
couple of times every week. We have our own jam space so we can get
together whenever the mood strikes.
Playing Live:
Where have you performed? What are your favorite and least favorite venues?
Over the last year, we've played most of the bars and clubs in HRM
that allow original rock bands. A few shows in rural Nova Scotia and
ventured into New Brunswick. There's venues we really enjoy playing
and there's some spots that are less desirable but we never complain.
We'll play anywhere, anytime. We were at a house party last month and
rocked out right in the living room, it was the most fun we've had
playing so far. We're doing it again in July but with less tequila on
my part.
Do you have any trademark stage antics?
Not yet. We're still gaining the audience's trust before we let the
scorpions out of Matt's bass drum. Seriously, Klaus Meine is hiding
in there and he. is. pissed.
Give us an idea what to expect upon seeing your band live.
Expect a loud and energetic performance that can barely be contained
within the confines of a local watering hole. Anyone who wants to see
a rock show will not be disappointed. We're really looking forward to
Wednesday's show with Broken Ohms and Johnny Dick. It's going to be a
wild evening.
Other Stuff:
Do you guys have any other hobbies besides, obviously, making music?
We're all very musical so that takes up a lot of our time. Jarrett is
a Shodan (Black Belt) in Uechi Ryū which works in his favour if we
disagree with anything he says. Let me tell you, nukites can end an
argument pretty fucking quick.
What's your most embarrassing band experience?
Stepping on cables and unplugging instruments, dropping mics, bumping
into each other like a couple of Stooges. Fucking up a song, kicking
amps over, pedals not working, losing balance and almost falling over.
This is a tough question, I guess nothing embarrassing has happened
that I can think of.
Do you have a record label? Are you a member of any music organizations?
We're label-less right now but faithful members of Music Nova Scotia.
Tell us anything else you would like to add! (upcoming album
releases, touring, promo...)
We're currently finishing up our debut album which will be available
this Summer. We can't wait to get it out, it's a huge and unfamiliar
sound to the East coast. We're also going to get a couple of more
people involved with the live show to add more texture and atmosphere.
An official website will be launched to coincide with the release as
well as an East coast tour in September.
Randomness:
If aliens landed in front of you and, in exchange for anything
you desire, offered you any position on their planet, which position
would you take?
I'd take the position of whoever operated the ship that came to Earth
take it right back here! Maybe.