Reverse Mount Rushmore are comin' to town this coming Wednesday @ Gus' Pub! We decided to have a little chat with the guys in order to give us a better idea as to what to expect...
This was the outcome...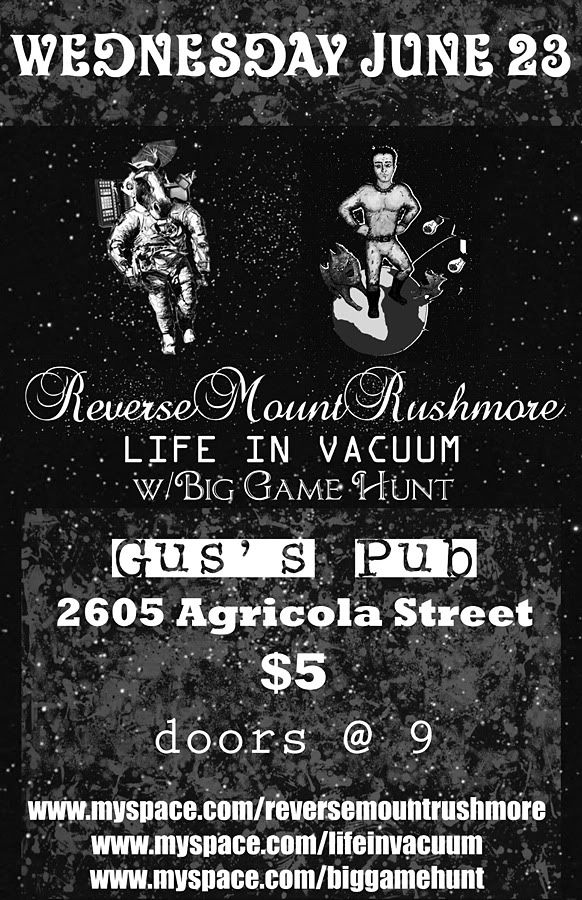 Introductions

:
Name of Artist/Band? (Include all band members names and instruments played.)
Reverse Mount Rushmore
Brent Fagan: Vocals, Guitar, Bass
Mike Mikocic: Guitar, Bass
Eric Euler: Keyboards, Synth
Spencer Linton: Drums
Is there a story behind the band name?
Mike:
Inverted Statue Of Liberty was already taken.
Brent:
It's Mike's secret that he's never told anyone before, because it's so mind blowing. He told us one night and i can assure you it's truly shocking.
What/where is your hometown? Do the people at home support your music?
Brent:
We call Toronto home and very few people support our music.
Eric:
A lot of people/friends dig the band and enjoy the tunes. I think if we promoted more we would have way bigger draws but we play a lot so we don't want to spam people every time we play. It's hard to keep people informed with little or no budget.
When did you form your band? What inspired you to make music together?
Brent:
I guess this band's about 2 years old. Mike and I formed the band because the other band we were in pissed us off too much.
Mike:
We enjoy irony.
What kind of music do you make? Do you consider yourself as part of a certain genre?
Brent:
I like to think of this band as being sort of weird and always changing.
Mike:
Definitely, I feel distanced from how this band played even a year ago.
Eric:
I like to think that we dabble in a lot of genres. Its what keeps it interesting for me.
Has your music evolved since you first began playing music together?
Brent:
Big time. I think in terms of our evolutionary progress we're at the "missing link" stage.
Mike:
We're at the stage where the monkey finds that stick.
Eric:
Totally. When i first joined i was more riffy, but over the months we really started to embrace the psychedelic genre. Our new batch of new songs started to explore pop elements which is cool because it's something I never really pictured myself playing and enjoying. It's like a weird pop though.
What are your rehearsals generally like? Do you have a set time each week in which you practice or are rehearsals more spontaneous?
Mike:
We definitely joke around alot. Our music has subliminal humor. But we can be real assholes to each other.
Eric:
I jam one on one with Mike or Brent depending on who writes the departure point. After I got that in the bag then I jam with the band as a whole.
Playing Live:
Where have you performed? What are your favorite and least favorite venues?
Favorite: Sneaky Dee's
Least Fav: Bovine
Do you have any trademark stage antics?
Brent:
Drinking?
Mike:
Bad shirts. We also have short hair now to confuse people. And Eric looks like he's purposely breaking his neck.
Give us an idea what to expect upon seeing your band live.
Mike:
Bad shirts. But only if you catch us on bad shirt night.
Brent:
If female it will most definitely be arousal. If male you will be in awe of our sexual prowess.
Have you ever played here in Halifax before?
Brent:
Yeah it was the best show on our last tour. It was at the seahorse tavern with broken ohms.
Mike:
I love Halifax. You guys always have the best crowds and attitude.
Other Stuff:
Do you guys have any other hobbies besides, obviously, making music?
Mike:
I perversely enjoy depriving myself of hobbies.
Eric:
I slay art BIGTIME www.ericeuler.com and I like to be awesome.
What's your most embarrassing band experience?
Brent:

Playing to no one is pretty embarrassing.
Mike:

Having poor stage sound kills me.
Do you have a record label? Are you a member of any music organizations?
Brent:
Nope, not that i'm aware of.
Tell us anything else you would like to add! (upcoming album releases, touring, promo...)
Brent:
June 10th is the kick off of our tour in which we hit the east coast to support our new record "The North Dakota" EP.
Mike:
The US in the fall.
Eric:
My other band The Isosceles Project is going on a big west coast tour in August. www.theisoscelesproject.com
Are you for or against odd socks?
Brent:
For it. Who the hell wants to sort socks?
Mike:
For it. Although i've been on this weeklong streak where I'll manage to get two of the same socks together without trying to.

__________________

I am stoked to check out this show - you should too!

Facebook event - click -
See more tour info here - click -

__________________



Interview by Tiffany Naugler