Guest Writer

- Isaac Thompson
(from Unfiltered Smoke)

Halifax has always been home to a diverse group of musicians. In this city there are artists of all types delivering tunes in any style you please. The show I attended last night
(March 5th 2010)
at Gus' pub was indicative of just that. The four bands that played (
the

Voice of Russia

, the

Baketones

,

Ocean Towers

and

Kestrels

) all sounded completely different from each other, but it wasn't awkward or
disjointed it really gave the night a well rounded, eclectic feel.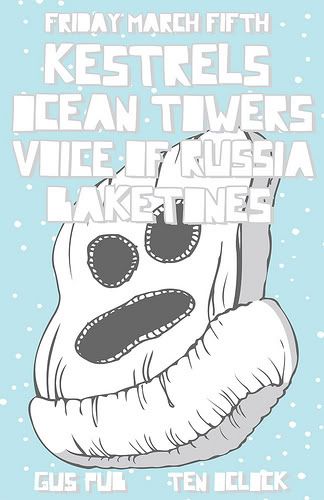 Kestrels!
http://www.myspace.com/kestrelskestrels
Ocean Towers!
http://www.myspace.com/oceantowers
Voice of Russia!
http://www.myspace.com/thevoiceofrussia
Baketones!
http://www.myspace.com/thebaketones
The night opened with the debut of
Voice of Russia
. The first thing I noticed about them, besides their massively complicated looking setup of effects pedals, was how much stage presence they had for a new band. The Voice of Russia owned the stage during their set, especially when their songs would build to fever pitch climaxes. Their sound took me by surprise too. The songs were ethereal sounding yet very danceable. They made good use of trippy delay effects on the vocals, giving their sound an unearthly quality that was unlike anything I've ever heard preformed at Gus' Pub. I look forward to hearing more from these guys.
VIDEO:




Next up were the

Baketones

who barrelled through a set of down and dirty rock and roll. They were by far the showiest band of the night and their set was nothing short of electric. Their first song, an explosive cover of the Yardbird's "Train Kept A-Rollin", was a perfect introduction to what followed. Their sound was like a cross between the Who, the Mc5 and a package of firecrackers.
The Baketones' keyboard player, Rob Corrigan, blew me away. He strutted onstage dressed in coveralls with an old plastic keyboard strapped to him like a guitar. The Energy on the stage was unbelievable, especially for so early in the night, and Mr. Corrigan performed like a man possessed. During their last song, Rob began bashing his keyboard with his fists, sending keys and various bits of plastic flying in the air. Not content with merely disabling the keyboard, he flung it off the stage and it landed in the middle of the dance floor. Its impact sent plastic debris in all directions like a Fisher Price hand grenade. While the band pounded out the last sustained chords of the song one of the waiters approached Rob with what I thought was a broom, turns out it was a baseball bat. Rob used the bat to bash the ever-loving shit out what was left of his keyboard and then handed the bat off to audience members to finish the job. It was really, really badass.
VIDEO:




After a bit of a delay due to a busted amp we were treated to

Ocean Towers

, who again sent the night in totally different direction. Ocean Towers were pure unabashed stoner rock and I loved them for it. They slowed it way down and cranked it way up delivering Sabbath style grooves you could get lost in for hours. It was a nice departure. Their songs barrelled along like a road trip in the desert. The band was tight and played well off of each other. Their set came at just the right point in the night for me. It was nice to take a breather after seeing the destructive bombast of the previous band.
VIDEO:
The last band of the night was
Kestrels
. They brought a 90s shoe gazer style to the proceedings. Their music managed to be both laid-back and energetic. They had sweet pop melodies lurking beneath a wall of effects laden guitar in the vein of My Bloody Valentine. The song writing in Kestrels was solid, they had some really nice hooks and they played their set with spitfire jubilance. Kestrel's set was short and sweet, nicely capping of one of the most musically diverse evenings at the pub I've ever experienced.
VIDEO:
- - - - - - - - - - - - - - - - - - - - - -
Review

- Isaac Thompson

(Unfiltered Smoke)



Video

-

Daniel Nightingale & Tiffany Naugler




Photos

-

Tiffany Naugler
_____________________
Want us to come to your show?
Shoot us a message!

noisography@gmail.com