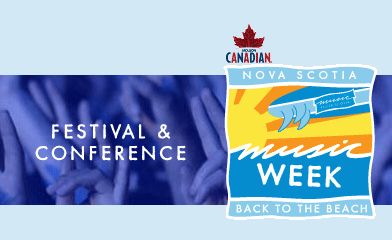 Rich Aucoin leads the pack with eight nominations and The Barra MacNeils to play Gala show
Electro-pop parachuter Rich Aucoin leads the pack with eight Music Nova Scotia Award nominations, followed by the megaphone toting Ben Caplan, who snagged seven nominations and Rose Cousins who lights a spark in six categories. On the industry side, Brookes Diamond, Ian McKinnon, Heather Gibson, Stephanie Purcell, Tiffany Spencer, Trevor DeSouza, Trevor Murphy and Sonic Entertainment Group all earned multiple nominations.

All current members of Music Nova Scotia are eligible to vote for this year's Music & Industry Awards which will take place through an online voting system beginning on Tuesday, September 4th and closing on Monday, September 24th at 5pm. Voting instructions will be sent to the membership on September 4th via email.


Eight of the awards will be handed out at the NSLC Gala Awards Show, including Entertainer of the Year (public vote opening soon), Female Artist Recording of the Year, Male Artist Recording of the Year, Group Recording of the Year, Music Video of the Year, New Artist of the Year, SOCAN Songwriter of the Year and Recording of the Year. The remaining 38 awards will be given out at the Music & Industry Awards Brunch on the morning of Sunday, November 11th at White Point Beach Resort.


The NSLC Gala Awards Show is set to take place at the Queens Place Emera Centre on Sunday, November 11th at 8:00 PM and will feature performances from
The Barra MacNeils, Ben Caplan & The Casual Smokers, SoHo Ghetto, J-Bru with Chad Hatcher, Dwayne Côté and Duane Andrews, Sprag Session, and Mark Cameron with more performers to be announced.

Tickets to the NSLC Gala Awards Show are on sale now and can be purchased by phoning
1-888-311-9090, online a nsmw.ca/tickets, or in person at any Ticketpro location, including Reynolds PharmaChoice in Liverpool and Bridgewater Pharmasave.

Music Nova Scotia would like to acknowledge the support of Molson Canadian, Region of Queens Municipality, the Atlantic Canada Opportunities Agency, the Nova Scotia Department of Communities, Culture and Heritage, FACTOR, SOCAN Foundation, White Point, The NSLC, Bell Aliant, CKBW, HANK FM, Best Western Plus Liverpool, The Queens County Advance and Marcato Digital.


For a full list of 2012 Music Nova Scotia Music & Industry Award nominees, please see below or visit
nsmw.ca/nominees.


Music Nova Scotia Music & Industry Award Nominees 2012
Music:
Aboriginal Recording of the Year

Angelo Spinazzola - The First Nations Songwriting Sessions
Rev Hank - Longhorn
Eastern Eagle - Softer Side

Alternative Recording of the Year

Ben Caplan & The Casual Smokers - In The Time Of The Great Remembering
Heather Green - Your Last War
Jon Mckiel - Tonka War Cloud
Paper Beat Scissors - Paper Beat Scissors
Rich Aucoin - We're All Dying To Live
Wintersleep - Hello Hum

Blues Recording of the Year

Catahoula Brown - Lonely Lives Here
Chris Martin & The Trouble Shooters - A Whole 'Nother Thang
John Campbelljohn - Celtic Blues
LeeBoy - Better Man Blues
Little Derek and the Haemo Blues Band - Blood Brothers
Matthew Pickup & the Movement - Learning To Lose Control

Children's Recordingof the Year - Presented by Liverpool Home Hardware

Donna & Andy - La Vie Pour Moi
Keith Mullins/Thom Swift - The Wood Buffalo Youth Song Project
On The Back Porch - Tales Tall And True
Pistachio Mike - Where My G's At?

Classical Recording of the Year - Presented by CAA

Scott Macmillan - Within Sight Of Shore
Sheila Margeson - Joyful Spirit
The Barra MacNeils - The Barra MacNeils with Symphony Nova Scotia Live in Concert

Country/Bluegrass Recording of the Year - Presented by Lauren Tutty Promotions

Crowdis Bridge - The Seasons & The Rhymes
Dale Murray - Dream Mountain Dream
J.P. Cormier - Somewhere In The Back of My Heart
Mark Cameron - What's One More Day
RyLee Madison - Where Does The Time Go
The Modern Grass - High On The Mountain

DJ of the Year

AA Wallace
PINEO
Dj IV
Plaeboi
R$ $mooth
DJ T-Woo
Producer of the Year:
Alex Meade
Dale Murray
Daniel Ledwell
Fred Lavery
Scott Ferguson
Tim Feswick
Digital Artist of theYear

Ben Caplan
Christina Martin
Rain Over St. Ambrose
Rich Aucoin
Ryan Cook
The Town Heroes

Electronic Recording of the Year

AA Wallace - Bowie
Dougie Barron - SURF TRAX
Rich Aucoin - We're All Dying To Live

Entertainer of the Year

Ben Caplan
David Myles
Gloryhound
Joel Plaskett
Rich Aucoin
Rose Cousins

Female Artist Recording of the Year - Presented by Delta Hotels and Resorts

Christina Martin - Sleeping With A Stranger
Heather Green - Your Last War
Laura Merrimen & The Hard Tickets - Midnight Roll
Molly Thomason - Beauty Queen
Ria Mae - Under Your Skin
Rose Cousins - We Have Made A Spark

Folk Recording of the Year

Christina Martin - Sleeping With A Stranger
J.P. Cormier - Somewhere In The Back of My Heart
Keith Mullins/Thom Swift - The Wood Buffalo Youth Song Project
Rose Cousins - We Have Made A Spark
Steve Gates - A Bee In Her Mouth
Morgan MacDonald - Back To The Wilderness

Francophone Recording of the Year

Donna & Andy - La Vie Pour Moi
Sylvia Lelievre - Chansons du Coeur/Songs from the Heart
Bête 6 - Bête 6
Réjean Comeau et Alcide Comeau - Moi et Mon Grand-Père

Group Recording of the Year - Presented by Destination Southwest Nova Association

Gypsophilia - Constellation
Rain Over St. Ambrose - Overton Window
SoHo Ghetto - Humble Beginnings Make For Good Night Life
Sprag Session - Sprag Session
The Modern Grass - High On The Mountain
Wintersleep - Hello Hum

Hip Hop Recording of the Year

Anonamyss - Day Dreams
Cam Smith - Start Line
J-Bru - 12 Years And Counting
Know Issue - Just Human
LinA - Not Just A Pretty Face
Quake Matthews - The Book Of Matthew

Inspirational Recording of the Year - Presented by CAA

Andru Branch - Step Into The Light
Jon Bryant - What Takes You
LevyStep - These Times

Jazz Recording of the Year

Dwayne Côté and Duane Andrews - The Empress
Gypsophilia - Constellation
Jamie Gatti's Riot Squad - Warped
Jeff Torbert - Urban Poultry & Other Hopes
John Gracie - Live From The Flamingo
Will Fisher - Portage

Loud Recording of the Year

Bloody Diamonds - Eliza And The Strange
Chaos Theory - Chaos Theory
Kuato - Summer EP
Old Blood - Ruins

Male Artist Recording of the Year - Presented by Delta Hotels and Resorts

Ben Caplan - In The Time Of The Great Remembering
Carleton Stone - Carleton Stone
Dale Murray - Dream Mountain Dream
David Myles - Into The Sun
Rich Aucoin - We're All Dying To Live
Steve Gates - A Bee In Her Mouth

Music Video of the Year - Presented by Dixie Lee Family Restaurant

Gloryhound - Electric Dusk, directed by Jack Brayer
My Name Is Kay - Diddy Dum, directed by Mista Hindz and Alex Yelizarov
Quake Matthews featuring JRDN - Warrior, directed by Patrick Hepburn & Cazhmere
Rich Aucoin - It, directed by Noah Pink
Rose Cousins - Go First, directed by Scott Simpson
The Town Heroes - Slag Heaps, directed by Dillon Garland

Musician of the Year - Presented by Saltscapes

Adam Fine
Dale Murray
Darren McMullen
Jordi Comstock
Kev Corbett
Zach MacLean

New Artist of the Year - Presented by Cheryl J. Beaton Accounting

Ben Caplan - In The Time Of The Great Remembering
Dylan Guthro - All That's True
Rain Over St. Ambrose - Overton Window
Ria Mae - Leaving Today
SoHo Ghetto - Humble Beginnings Make For Good Night Life
Young River - Young River

Recording of the Year - Presented by Krista Keough Creative Communications

Ben Caplan & The Casual Smokers - In The Time Of The Great Remembering
Christina Martin - Sleeping With A Stranger
David Myles - Into The Sun
Rich Aucoin - We're All Dying To Live
Rose Cousins - We Have Made A Spark
Wintersleep - Hello Hum

Rock Recording of the Year - Presented by RDR Music Group

Andrew Hunter & The Gatherers - Warhorses
Carleton Stone - Carleton Stone
Laura Merrimen & The Hard Tickets - Midnight Roll
LevyStep - These Times
Rain Over St. Ambrose - Overton Window
Young River - Young River

SOCAN Songwriter of the Year - Presented by SOCAN

Ben Caplan - Stranger
Carleton Stone - Never Felt a Thing
Dale Murray - The Wind Is Trying To Kill Me
Joel Plaskett - You're Mine
Rich Aucoin - It
Rose Cousins - Go First

Traditional/Roots Recording of the Year - Presented by The Old Triangle Pub

Darren McMullen - Shoes For Molly
Dwayne Côté and Duane Andrews - The Empress
J.P. Cormier - Somewhere In The Back of My Heart
Sprag Session - Sprag Session
The Barra MacNeils - The Barra MacNeils with Symphony Nova Scotia Live in Concert
The Modern Grass - High On The Mountain

Urban Recording of the Year - Presented by The Lord Nelson Hotel

Andru Branch - Step Into The Light
Hello, Click - Hello, Click
J-Bru - 12 Years and Counting
StahMeNah - Rewind

Industry:
Booking Agent of the Year

Heather Gibson
Jason MacIsaac
Stephanie Purcell
Tiffany Spencer
Shimon Walt

Community Presenter of the Year - Presented by Destination Southwest Nova Association

Petite Riviere Volunteer Fire Department
Chester Playhouse
Glasgow Theatre
Little River Folk Society
Port Hawkesbury Civic Centre
Th'YARC

Company of the Year - Presented by Symphony Nova Scotia

Come Undone Records
Diminished Fifth Records
Forward Music Group
GroundSwell
Pigeon Row Publications
SpinCount Music & Promotions

Corporate Sponsor of the Year - Presented by Music Nova Scotia

Casino Nova Scotia
CKBW/Hank FM Acadia Broadcasting
Marcato Digital
Molson Canadian
The NSLC
Transcontinental

Educator of theYear

Donna Rhodenizer
Greg Simm
Keith Mullins
Trevor DeSouza
Troy MacGIllivray
Waye Mason

Event of the Year

Celtic Colours International Festival
Halifax Jazz Festival
Halifax Pop Explosion
Harmony Bazaar Festival Of Women & Song
In The Dead Of Winter Festival
Riverfest

Industry Professional of the Year

Don Brownrigg
Ian McKinnon
Josh Hogan
Kim Sinclair
Mike Greatorex
Trevor Murphy

Manager of the Year - Presented by Music Managers Forum Canada

Brookes Diamond
Heather Gibson
Ian McKinnon
Jason Burns
Stephanie Purcell

Media Professional of the Year - Presented by Red Tentacle

Bill MacNeil - The Coast 89.7
Darcy Campbell - Shot On Site Media
Stephanie Johns - The Coast
Stephen Cooke - The Chronicle Herald
Tiffany Naugler - Noisography
Trevor Murphy - Halifax Is Burning

Promoter of the Year

Acadian Embassy
Ashley Moran
Brookes Diamond
Mike Campbell
Sonic Concerts
Tiffany Spencer

Production Company of the Year

Christie Lites
GroundSOUND
Ocean Blue Music
Sound Systems Plus
Tour Tech East

Publicist of the Year

Josh Hogan
Matt Charlton
Peggy Walt
Kimberly Sinclair
Wendy Phillips

Radio Program of the Year

Atlantic Airwaves (CBC)
East Coast Countdown (Syndicated)
East Coast Road Trip (East Coast FM)
Halifax Is Burning (CKDU)
Meet The Music With Jason MacDonald (The Coast 98.7)
That East Coast Show (CKBW)

Radio Station of the Year - Presented by Theriault Financial

CKDU 88.1FM
Live105 105.1FM
QCCR 93.3
Seaside FM
The Coast 89.7 CKOA-FM
The Hawk 101.9

Recording Studio of the Year

Codapop Studios
Echo Chamber
Ferguson Music Productions
Feswick Productions
Lakewind Sound Studios
Sonic Temple

Technician of the Year

Alan Strickland
Carl Gosine
Georgia Richards
John Cornwall
Stephen Smith
Trevor DeSouza

Venue of the Year

Al Whittle Theatre
Michael's Bar & Grill
The Carleton Music Bar & Grill
The Company House
The Seahorse Tavern

Visual Artist of the Year

CHR!S SM!TH
Janette Rawding
Kyle Cunjak
Marnie Gillis
Mat Dunlap
Scott Blackburn

Volunteer of the Year - Presented by Sonic Entertainment Group

Alan Samson
Leif Helmer
Mary Beth Waldram
Pam Samson
Samantha Forsyth
Scott Drummond
Press Release provided by
Music Nova Scotia