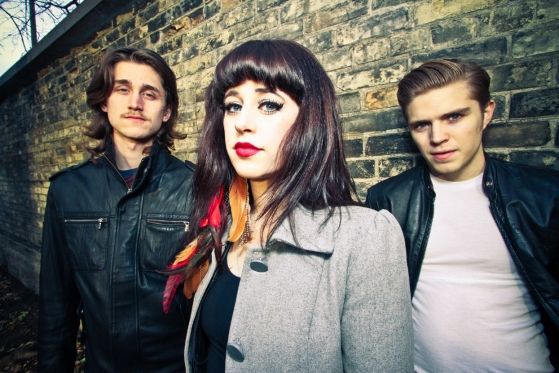 The Balconies are gearing up for a busy fall full of touring to Los Angeles for FILTER Magazine's 2012 Culture Collide festival and cross-Canada dates with Big Sugar and Wide Mouth Mason until November.
If the past few months haven't been busy enough, The Balconies are packing their bags again, this time with their sights set on the west coast. The dynamic trio are representing Canada at FILTER Magazine's 2012 Culture Collide Festival this October 4-7 in Los Angeles, California. Of course, one road trip is never enough, and the group will be playing their way across the country, joining blues-rockers Big Sugar as well as Wide Mouth Mason on Canadian dates including long overdue stops in Vancouver, Calgary and more.
It seems as if 2012 has been non-stop for The Balconies who released their Kill Count EP (Coalition/Warner) in February along with a music video for the title track. What followed was a flurry of touring including festival stops at the likes of South by Southwest in Austin, TX, Summerfest in Milwaukee and recently back-to-back dates at Edgefest and Ottawa Bluesfest. Their touring hasn't stopped there with recent dates in New York City alongside U.S.S., the pleasure of opening for Sam Roberts Band at Jackson-Triggs Winery, and most recently Ontario dates with Los Angeles-based group The Aggrolites.
The raw energy and charisma that comes from frontwoman Jacquie Neville backed by Liam Jaeger on drums and brother Steve Neville on bass has left audiences in awe nationwide, a feat the critics have been quick to take notice of. SiriusXM named "Kill Count" one of the top tracks of 2011 and for the second time The Balconies were named Ottawa's "Best Rock/Pop/Dance Group" in the Ottawa Xpress 2011 poll. Always gaining momentum it's looking like 2012 will be another landmark year for the Ottawa/Toronto group. Tour dates and download links below.


TOUR DATES
Sept. 7 @ Mississauga Celebration Square, MISSISSAUGA (FREE SHOW w/ Hollerado)
Sept. 27 @ The Mansion, KINGSTON (w/ Wide Mouth Mason)
Sept. 28 @ Loretto Tavern, LORETTO, ON (w/ Wide Mouth Mason)
Sept. 30 @ The Metro Room - Doyle's Pub, SARNIA (w/ Wide Mouth Mason)
Oct. 1 @ Club Absinthe, HAMILTON (w/ Wide Mouth Mason)
Oct. 2 @ The Coulson Nightclub, SUDBURY (w/ Wide Mouth Mason)
Oct. 4 @ Venue TBA, LOS ANGELES (**Culture Collide Festival)
Oct. 5 @ Venue TBA, LOS ANGELES (**Culture Collide Festival)
Oct. 6 @ Venue TBA, LOS ANGELES (**Culture Collide Festival)


Oct. 7 @ Venue TBA, LOS ANGELES (**Culture Collide Festival)
Oct. 10 @ Louis' Pub, SASKATOON (w/ Wide Mouth Mason)
Oct. 11 @ New City Legion, EDMONTON (w/ Wide Mouth Mason)
Oct. 13 @ The Gateway Bar - SAIT, CALGARY (w/ Wide Mouth Mason)
Oct. 14 @ The Rockwater Grill and Bar, GOLDEN, BC (w/ Wide Mouth Mason)
Oct. 20 @ Commodore Ballroom, VANCOUVER (w/ Big Sugar)
Oct. 25 @ Kamloops Convention Centre, KAMLOOPS (w/ Big Sugar)
Nov. 2 @ Century Casino, CALGARY (w/ Big Sugar)
Nov. 10 @ Burton Cummings Theatre, WINNIPEG (w/ Big Sugar)
*More tour dates to be announced here
LINKS