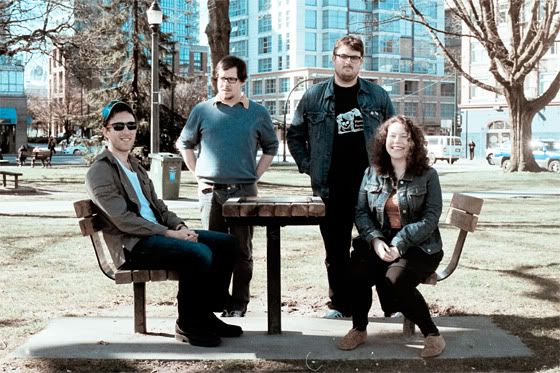 You've Changed Records excitedly announces the release of Apollo Ghosts' new album, Landmark. Out on May 15, the album follows the group's Polaris Prize nominated 2010 release, Mount Benson.
After Hastings Sunrise and Mount Benson, Apollo Ghosts has written a third album about island paradise, doing the dishes, and love. Adrian Teacher wrote most of music for Landmark in Sackville, New Brunswick and finished the lyrics in a small cabin on Protection Island, after shopping for a weekend's worth of groceries. Landmark is the most domestic and personal album the Ghosts have recorded. The songs are deeply informed by the concept of home, the worries of ageing and lost love, sexuality and abandoned friendships.
Apollo Ghosts - What Are Your Influences? by Pigeon Row
Apollo Ghosts recorded Landmark themselves with the help of Jay Arner (No Gold, Fine Mist) in their practice space. Jay Oliver, Jarrett K., Amanda Panda, and Adrian Teacher pressed into the shoebox room and recorded takes wedged between metal bands, bribing them with six-packs when necessary. Unsurprisingly then, their third full length album Landmark is inspired by tiny spaces and islands at night; it's about coming home, and being away; and about being in a band on weekends with your best friends.
Apollo Ghosts have performed across Canada and the USA and have recently been called "one of the best live bands in the business" by
Exclaim Magazine
.
Weird Canada
claimed that their most recent release was "the best 7" to come out in 2011."