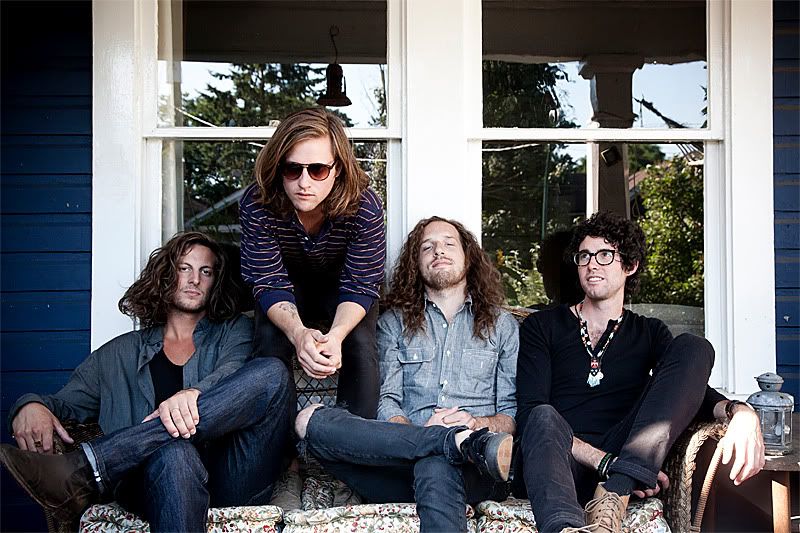 After debuting their new album live last week on CBC Radio 2's Canada Live, streaming their new album proper this week and recently returning from Europe, the Vancouver band is ready to hit the highways and freeways of North America for a 30 plus date tour. "Tiger Talk" comes out around the world on March 20 on Dine Alone Records and the band will be in Halifax on April 7.
Pre-order information and full tour dates are listed below.
Tiger Talk is the follow up to Yukon Blonde's Fire//Water EP released last fall. Produced by Colin Stewart (Black Mountain, Ladyhawk) the tracks on the album are short and punchy, as the band trimmed the fat and packed hooks and brisk tempos into streamlined arrangements. This past fall, Yukon Blonde embarked on a 62 + date North American tour and the EP single "Fire" was featured on an episode of the ABC show Revenge shortly after the TV show How I Met Your Mother made a reference to the group.
After 6 PM Eastern today you will be able to pre-order "Tiger Talk" via the band's website or Dine Alone's website. Pre-order the

CD or the limited-edition Orange and Yellow translucent marble vinyl 12" w/ gatefold jacket, or a bundle of either that includes a pre-sale exclusive silkscreen hand-numbered 12"x18" Tiger Talk poster. All pre-orders come with a digital download of the album instantly.
Yukon Blonde Live in Concert
March 5 - Seattle, WA @ Sunset Tavern (Presented by KEXP)
March 15 - South By San Jose @ San Jose Hotel (SXSW - 13:00)
March 15 - Lets Get Messy Austin @ 512 Bar (SXSW - 14:30)
March 15 - New Granada Records Party @ Aussie's Bar & Grill (SXSW - 16:45)
March 15 - Official Showcase @ Trinity Hall (SXSW - 21:00)
March 16 - Homeslice Pizza Party @ Homeslice Pizza (SXSW - 12:10)
March 17 - Scene 1425 / Exclaim Party @ Spill Bar (SXSW - 14:00)
March 22 - Edmonton, AB @ Pawn Shop
March 23 - Saskatoon, SK @ Amigos
March 24 - Winnipeg, MB @ WECC*
March 26 - Minneapolis, MN @ Triple Rock*
March 27 - Chicago, IL @ Beat Kitchen*
March 28 - London, ON @ Call the Office^
March 29 - Guelph, ON @ The Vinyl*
March 30 - Montreal, QC @ Casa Del Popolo^
March 31 - Kingston, ON @ Grad Club^
April 02 - Quebec City, QC @ Le Cercle^
April 04 - Charlottetown, PEI @ Hunters Ale House^
April 05 - Fredericton, NB @ The Capitol^
April 06 - St. John's, NL @The Rock House
April 07 - Halifax, N.S. @ Reflections Cabaret^
April 10 - New York, NY @ Pianos*
April 11 - Philadelphia, PA @ Kung Fu Necktie*
April 12 - Toronto, ON @ Lee's Palace^
April 13 - Toronto, ON @ Lee's Palace#
April 14 - Ottawa, ON @ Ritual^
April 16 - Sudbury, ON @ The Townehouse^
April 18 - Thunder Bay, ON @ Crocks^
April 20 - Regina, SK @ University of Regina Multipurpose Room^
April 21 - Calgary, AB @ Palomino%
April 26 - Victoria, B.C. @ 9ONE9^
April 27 - Vancouver, B.C. @ Commodore *

May 10 - Great Escape, Brighton UK
May 19 - Liverpool Sound City, Liverpool, UK

* w/ Library Voices, ^ w/ Library Voices & Great Bloomers, % w/ Great Bloomers, # w/ Library Voices & Young Rival

Watch Videos of "My Girl" & "Radio" from the

CBC Toque Sessions Performance

on CBC Music:

http://r3.ca/0LRg
http://www.twitter.com/yukonblonde