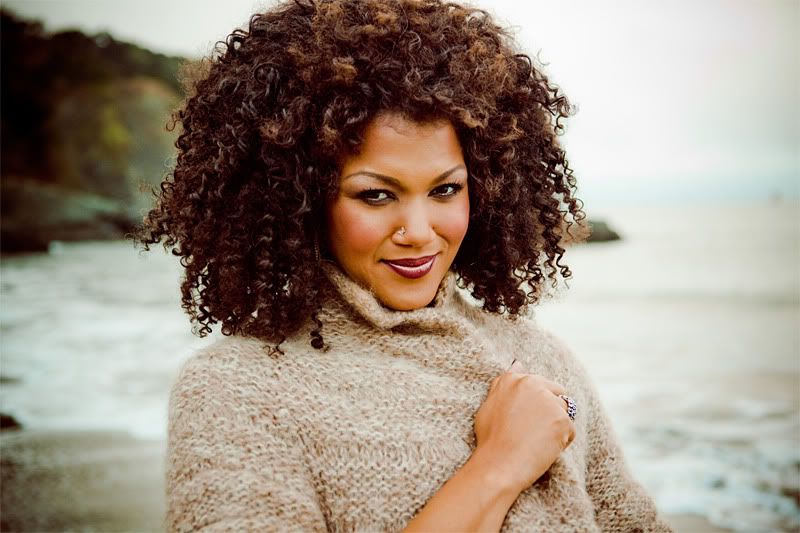 Juno award-winning Canadian singer Measha Brueggergosman
reveals Canadian tour dates & album details
"I've Got A Crush On You" coming April 17 on Kelp Records
"I look for pieces that are an extension of myself," explains Juno award-winning and Grammy-nominated singer

Measha Brueggergosman when talking about the newly finalized album that she co-produced with Aaron Davis which will be released on Kelp Records this April 17, 2012. Those words explain the essential genesis of the 14 track album, recorded live in front of sold-out audiences in Halifax and her hometown of Fredericton this February.
She highlights some of Canada's best songwriters; Leslie Feist's "Cicadas and Gulls", Ron Sexsmith's "Secret Heart", Joni Mitchell's "Both Sides, Now" (performed initially with Joni in attendance at the induction ceremony for the Canadian Songwriters Hall of Fame) and Lennie Gallant's "Tonight I Drive You Home." The album also features a brand new duet co-written and performed by David Myles and Measha called "Whole To My Half."
A quick look at the chosen songs reveals the soprano's love for American songbook standards; a title track by the Gershwins, "I've Got A Crush On You" as well as their quintessential love song "Embraceable You" sits beside the Cole Porter lament "Miss Otis Regrets" and Frederick Loewe and Alan Jay Lerner's "I Could Have Danced All Night." She also includes a version of Errol Garner's "Misty."
Spirituals and traditional songs which highlight both the power and presence and the delicate nature of Brueggergosman's voice round out the track-listing including one of her personal favorites "I Come To The Garden" (C.Austin Miles), Spanish cancione "Nana" (Manuel de Falla), the traditional Acadian tune "Partons La Mer Est Belle" (featuring a duet with Lennie Gallant) and the rousing spiritual "Ride On King Jesus."
Measha Brueggergosman is supported by Musical Director
Aaron Davis
(piano)
,
Robert Piltch
(guitar),
Marty Melanson
(bass), George Koller (bass),
John Johnson
(woodwinds), Chris Mitchell (woodwinds),
Davide Direnzo (drums),
Dave Burton
(drums)
and the
horn section from Halifax's Mellotones.
Featured guest vocalists include
Lenny Gallant and
David Myles.
TRACKLISTING
I Could Have Danced All Night

TOUR DATES
On sale this on Friday, March 16, 2012
Details for ticket prices and locations will be posted at measha.com
April 20 - TORONTO, ON (Trinity St. Paul's)
April 27 - OTTAWA, ON (Bronson Centre)
May 3 - MEAFORD, ON (Meaford Theatre)
May 4 - KINGSTON, ON (Grand Theatre)
May 8 - MONCTON, NB (Capitol Theatre)
May 9 - ST. JOHN, NB (Imperial Theatre)
May 11 - GLACE BAY, NS (Savoy Theatre)
May 17 - PETERBOROUGH, ON (Showplace Theatre)
May 19 - FREDERICTON, NB (Playhouse)