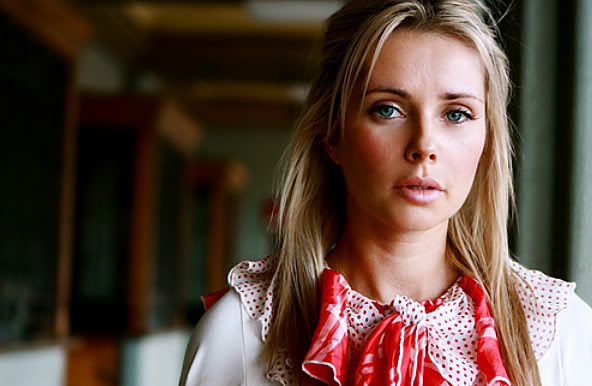 ALBUM WILL BE LAUNCHED MAY 8th
WITH A PERFORMANCE IN TORONTO
CANADIAN TOUR DATES ANNOUNCED
IN SUPPORT OF NEW RECORD
Alternative folk-songstress Marta Pacek has been charming audiences the world over with her beautiful voice and honest and intimate songwriting. Armed with a collection of 11 new, original songs, written in her own beautifully intense and moody style, as well as a cover of Patty Griffin's Nobody's Crying, Marta is set to release her new album, Rebel Baby, on May 8. Following her release show that day in Toronto at the Rivoli, Marta will embark on an 18-date North American tour that will include seven additional Canadian shows (details listed below). Before catching her on the road, check out the first track These Days, for a taste what Rebel Baby has to offer.
Polish born, Australian raised singer-songwriter Marta grew up in the conservative Australian capital of Canberra and left the family nest, moving to Melbourne to focus her career entirely on the arts. It was here that she met iconic Hunters & Collectors front man Mark Seymour. This creative union inspired Marta to continue on the road as a singer-songwriter. With a handful of songs that she had co-written with Seymour, she recorded her debut EP with him and producer Cameron McKenzie. She later went on to record a further four tracks with producer Danny Simcic (Real Life Send Me An Angel) and UK ex-pat Martin Van Hoof Jenkins, to complete her self-titled full-length release.
Between relentless touring including performances in the U.S. Midwest with the band Vinyl Station (with ex-Gin Blossoms member Scott Kusimirek), a show opening for David Cassidy in Phoenix, and a Christmas concert performed with the Gala Orchestra of Milan in the historical Social Theatre (Teatro di Sociale) in Lecco, Italy, Marta somehow found the time to create Rebel Baby. The album was recorded with 27 musicians, including Canadian alt-country artist Justin Rutledge, and Jerome Godboo (Phantoms). Marta also co-produced the record with Canadian producer Jason Mercer (Ani DiFranco, Ron Sexsmith), with the help of emerging artist Peirson Ross. Track-to-track, Marta gently strums the emotional strings of all too familiar, universal themes, with a newfound honesty in her songs that is more intimate, moody, and human. Check out her newest video for the heartbreaking track Annie, shot at the historic Hotel Chelsea in NYC.
On top of her passion for music, the songstress has a flare for fashion that has developed into a personal style that often channels a vintage aesthetic, with a feminine rebellious edge. She has extended her love of precious things to her growing fan base, and has spent time developing her own unique, handcrafted "Marta Pacek" branded merchandise. Currently her range includes women's apple pendant necklaces carved from willow wood, baby harmonica necklaces, cotton string guitar bracelets, and wooden iPhone covers.
This past year, Marta has had great successes showcasing at CMW, ECMA Week, and NXNE. She has toured internationally, covering more ground in the U.S. Midwest, Eastern Canada, and her home country of Australia, and blew away audiences at Indie Week where she reached the finals. Her stunning vocals and rootsy charm bring each track from Rebel Baby to life as soon as she hits the stage, effortlessly crooning her heartfelt and soulful songs.
In Rebel Baby, Marta has felt true human frailty, and she is now ready to share it with her listeners.
Rebel Baby Tracklisting:
These Days

A Girl Gets By

Milk & Honey

Twisted With Love

Back To The Middle

In The Name Of Love

Annie

Over To Your Side

A Way To Fall

Think It Over

Let Me Down

Nobody's Crying
Canadian Tour Dates:
May 8 – Toronto, ON – The Rivoli (album release)
May 9 – Ottawa, ON – The Rainbow Bistro
May 10 – Ottawa, ON – The Elmdale Tavern
May 13 – Montreal, QC – Casa del Popolo
May 15 – Moncton, NB – Plan B
May 16 – Halifax NS – The Carleton
May 17 – Fredericton NB – The Capital Complex
May 18 – Saint John, NB – Peppers Pub