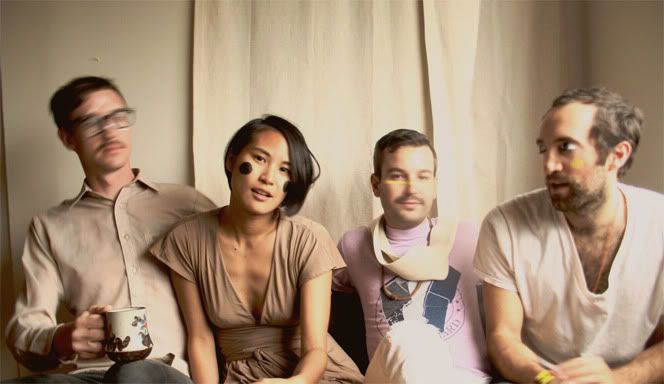 The Albertans release their new 7" The Hunter (Ernest Jenning Record Co.) on Tuesday, April 24. Winnie Cooper has premiered the title track here:
http://winniecooper.net/2012/03/new-albertans/.
The Albertans formed in the spring of 2008 in Vancouver, Canada as a rag tag seven piece ensemble. They toured down the West Coast in a diesel-fueled short bus with a cat, some ponchos, a set of bocci balls, sharing the songs and stories from Legends of Sam Marco which was released on Ernest Jenning Record Co. (Brooklyn, NY) later that Fall. For many moons and van repairs The Albertans straddled the the two coasts, devising and playing between Vancouver and Brooklyn. Brooklyn's 'L-Magazine' named The Albertans one of the top bands of 2009. In the summer of 2010, on a family farmhouse property in Saskatchewan, The Albertans began to push their way into new territory, adding more keyboard-driven songs, more outbursts and yelping. These new songs, in their attempt to describe today's sentiments of youth culture, came to form the second full length album New Age which was later released with Ernest Jenning Record Co. Today four of the original members remain: Frontman Joel Bravo of Shorewood, Wisconsin, Ian Everall and Alison Yip of Alberta and Curtis McLean from Saskatoon, Saskatchewan.
In Spring 2012, The Albertans offer to their listeners The Hunter a haunting and elegant 7 inch vinyl EP recorded with Magnetic Ring's Joshua Stevenson/Otic Sound (Vancouver, BC). The title track is an epic journey that leads you into a sinister foray of organ sounds and frenzied guitar. The other two tracks provide a clearing; one is a gentle wash called "Powers" and the other a soothing pop meditation called "Ohio." The songs were formed in the damp coves of Bowen Island and offer a glimpse into things and sounds to come.
http://www.thealbertans.com/