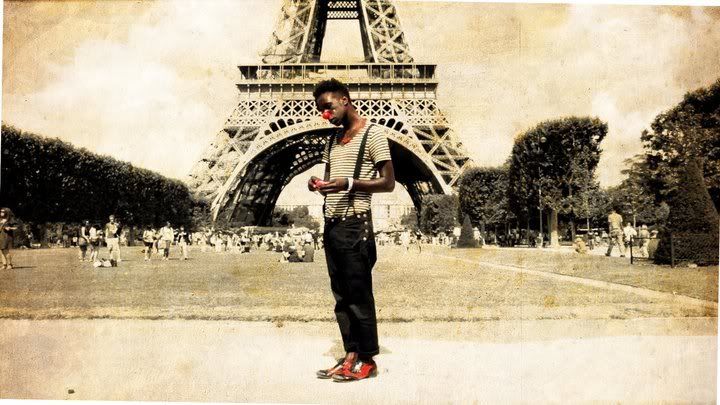 CANADIAN TOUR DATES IN SUPPORT OF VOLCANIC SUNLIGHT ANNOUNCED
NEW FILM AUJOURD'HUI PREMIERES AT BERLIN FILM FESTIVAL
RELEASE OF 5th BOOK – CHORUS: A LITERARY MIXTAPE
SET FOR SEPTEMBER 2012
Saul Williams - poet, writer, actor, musician; a true Renaissance man. He has pinball bounced from Morehouse philosophy scholar to cerebral street sermonizer to breakout indie actor. From hallucinatory hip-hop alchemist to dreadlocked mohawk rockstar, vibing Nine Inch Nails, scurrying across tones, modes and media to defy categorization. November 11, 2011 saw the release of Saul's new album, Volcanic Sunlight, that featured the soulful, beat driven track Explain My Heart

.

2012 will see the premiere of his new film Aujourd'hui, and a North American tour with dates in Vancouver, Toronto, and Montreal (details listed below), as well as the release of his fifth book.
A man of many hats, Saul's musical inclination seems almost written in the stars, as his own birth kicked off in the midst of a James Brown concert, where his mother was literally rushed from the venue to the hospital. With three albums under his belt, Saul returned with Volcanic Sunlight, recorded in his newfound home of Paris.
The album
sees the breathless-spat attacks of his early slam poetry reduced to the exultation he was always chasing. He maintains his ferocity and ups the percussion, while losing the frown. Williams has also dropped his trademark verbal traffic jams in favour of more concise emotional outbursts. Inspired by a life lived for love, the album is a TV On The Radio twist on Saul's regular Rage Against The Machine.
Saul's new film, Aujourd'hui, will premiere at the 62nd Berlin International Film Festival, which opens at the Berlinale Palast on February 9, 2012. Directed by Alain Gomis, the story follows a man named Satche, played by Saul, through his last day alive. Taking on the additional task of performing in a new language, Saul taught himself French and Wolof, which the character Satche speaks. This is his return to a major film festival in his leading-character role, after his film Slam, which he co-wrote, was awarded the Grand Jury Prize at Sundance, and the Camera D'Or at Cannes in 1998.
On top of everything else, Saul put out a call through social media for poets to submit their poems. Of the nearly 8,000 works received, he chose 100 and wove them together by theme so they would read like a novel or epic poem. The result is Chorus: A Literary Mixtape, which is set for release in September of this year. "It gives me an opportunity to introduce 100 new poets to the world," said Saul, "and also helped me find a way to re-invent the 'anthology' as a mixtape." An already well-respected author, this will be Saul's fourth book through MTV Books, and his fifth book overall.
Throughout all these chaotic ventures, Saul Williams has been one steady thing: an uncompromising voice determined to tap the adrenaline centre of his existence with any tool he can get his hands on. See him live when he hits Canada in support of Volcanic Sunlight next month.
Canadian Tour Dates
March 14 – Vancouver, BC – The Biltmore
March 23 – Toronto, ON – The Great Hall (CMW)
March 24 – Montreal, QC - Cabaret