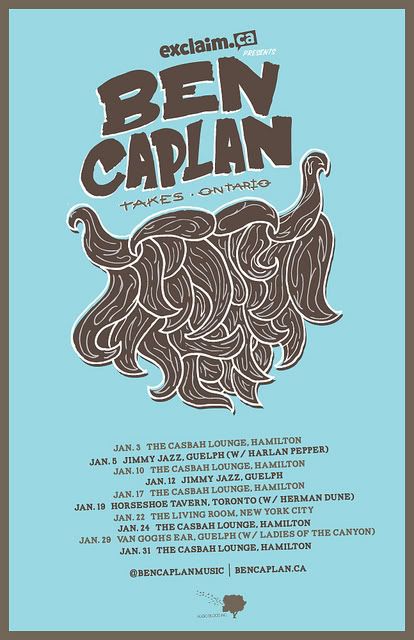 East coast troubadour Ben Caplan is heading westward for a series of Ontario tour dates throughout the first quarter of 2012. Rotating through Ontario markets,
Caplan
will bring with him his powerful stage presence and innate ability to make the most rigid of show-goers sway and dance with excitement to his soul-inspired tunes.
Caplan
will p
lay shows in Toronto, Guelph, New York City, and Hamilton before heading to South by Southwest Festival in Austin, Texas
in March. On January 19th, Caplan will support the eclectic Paris duo Herman Dune at the Horseshoe Tavern in Toronto.
Take this opportunity to experience Ben Caplan on this residency. His haunting and powerful voice is a force to be reckoned with and his live performances are unforgettable.
TOUR DATES
Jan. 5 @ Jimmy Jazz, GUELPH (w/ Harlan Pepper)
Jan. 10 @ The Casbah Lounge, HAMILTON
Jan. 12 @ Jimmy Jazz, GUELPH
Jan. 17 @ The Casbah Lounge, HAMILTON
Jan. 19 @ Horseshoe Tavern, TORONTO (w/ Herman Dune)
Jan. 22 @ The Living Room, NEW YORK CITY
Jan. 24 @ The Casbah Lounge, HAMILTON
Jan. 29 @ Van Gogh's Ear, GUELPH (w/ Ladies of the Canyon)
Jan. 31 @ The Casbah Lounge, HAMILTON
Mar. 1 @ Plan B, MONCTON
Mar. 2 @ Red Herring, SAINT ANDREWS
Mar. 3 @ Red Herring, SAINT ANDREWS
LINKS
http://bencaplan.ca
http://myspace.com/bencaplanmusic
http://twitter.com/bencaplanmusic