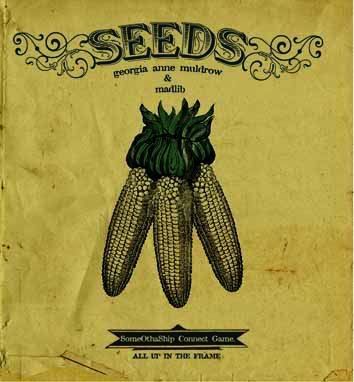 SOMEOTHASHIP CONNECT IS SET TO RELEASE GEORGIA ANNE MULDROW'S SEEDS, MARCH 27TH, 2012.
Acclaimed producer, Madlib, handles entirety of the production.
SomeOthaShip Connect is set to release Georgia Anne Muldrow's upcoming album, Seeds, March 27th 2012. Seeds not only marks Georgia's first album as a vocalists on an outside producers instrumentation, it also marks the first full length project Madlib has produced exclusively for a female vocalist.
"Not handling production and focusing strictly on the lyrics and vocals was a very different experience for me. It was as if I walked into someone else's world and built a hut. But I'm very proud of the hut we built and am excited about the release." - Georgia Anne Muldrow
Muldrow, a prolific vocalist, producer and multi-instrumentalist, comes from a musical family. Her father, the late Ronald Muldrow, was a jazz musician and her mother, Rickie Byars-Beckwith, a singer with the Pharoah Sanders Ensemble and co-founder of Sound of Agape Rhythms. She's also a proud mother to her son Nokware Perkins with her husband & music partner Dudley Perkins (aka Declaime). Muldrow's discography includes various pieces of work from Soul to Jazz to Hip-Hop and is as impressive as it is long for someone her age.
Georgia Anne Muldrow - Seeds (Produced by Madlib) by someothaship
Lyrically Muldrow's themes on this album center around her wonder about the elements of life and the interconnected nature of the universe. The first single, "Seeds" will be released as a 7" via Fat Beats and digitally via iTunes on February 14, 2012. "Seeds" ask the people of the world to elevate their consciousness and take responsibility for the future of our children and the planet. The 7" will also feature the b-side, "Husfriend," an ode to the beauty of commitment to another person. Another highlight track, "Wind," tells an esoteric story about a fisherman and his family and how the wind carries people's stories, traditions and soul.
Muldrow and Dudley Perkins aka Declaime are set to tour the U.S. in support of Seeds in late March/April. G&D will play Jazz Café in London, UK on Jan. 29thand in Rennes, France on Feb. 2 at MJC Brequigny.
________________________
www.someothaship.com
www.twitter.com/someothaship
www.twitter.com/jahjahmuldrow
www.facebook.com/georgiaannemuldrow
www.soundcloud.com/someothaship
www.youtube.com/someothashipconnect