THE ASTEROIDS GALAXY TOUR RETURN WITH OUT OF FREQUENCY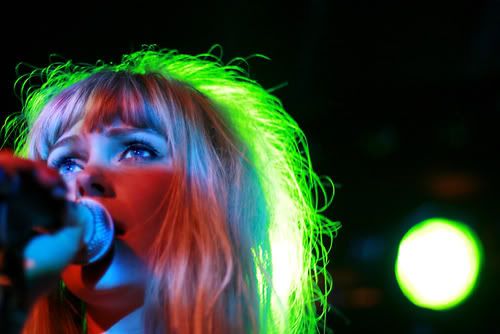 NEW ALBUM SET FOR RELEASE JANUARY 31
CANADIAN TOUR DATES ANNOUNCED
FOR FEBRUARY
As their name might imply, Danish pop collective The Asteroids Galaxy Tour are somehow less of a band than they are a many-legged, ever-evolving, constantly moving party machine. Now, nearly two years since the release of their debut album Fruit, they return with Out of Frequency. Set for release on January 31, 2012 (distributed by Sony Music Canada), the album pulses with the same everything-but-the-kitchen-sink vibrancy that made their debut so auspicious. Following the release, they will hit the road across North America, with Canadian stops in Montreal, Toronto, and Vancouver in February (dates listed below).
Nearly a year in the making, the album represents the next logical step in the musical partnership of founding members Lars Iversen and Mette Lindberg. The two retreated back to their native Copenhagen to begin solidifying the musical ideas that had been bubbling up after many long months on the road. Taking cues from classic big bands, psychedelic Danish children's TV shows from the 70s, and old Parliament records, Lindberg and Iversen slowly perfected their own version of pop noir – music that manages the clever trick of sounding somehow classic and futuristic at the same time.
The Asteroids Galaxy Tour has become a traveling collective of friends that, much like their music, defies traditional definition. The current touring incarnation of the band is six people, all of whom have a predilection for swapping instruments at a moment's notice. For Lindberg, the self-proclaimed empress of the band, the joys and occasional pains of making music with The Asteroids Galaxy Tour are akin to eating something delicious. "It's like choosing an ice cream, I just can't pick only two flavors. I want to taste all of them. That's how it feels with our music as well. We get to play with all the flavors."
Don't miss your chance to catch The Asteroids Galaxy Tour in Canada this February!
Canadian Tour Dates:
Feb 4 – Montreal, QC – Il Motore
Feb 6 – Toronto, ON – The Hoxton
Feb 19 – Vancouver, BC – Venue
www.facebook.com/TheAsteroidsGalaxyTour
twitter.com/#!/theasteroids